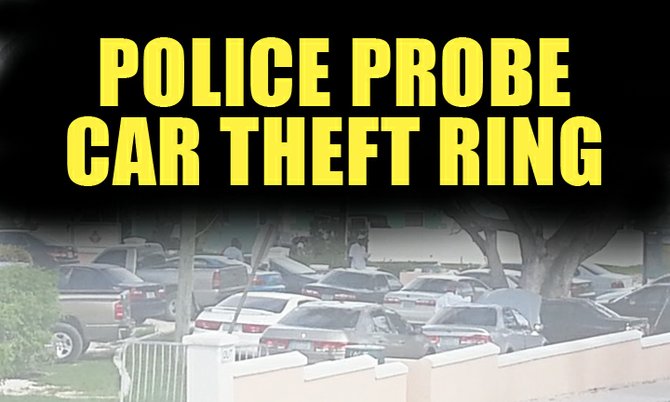 By SANCHESKA BROWN
Tribune Staff Reporter
sbrown@tribunemedia.net
 POLICE are investigating several Road Traffic Department employees and insurance companies in connection with a massive nationwide car theft ring.
A Jamaican national, who is believed to be the mastermind, was taken into custody yesterday afternoon.
His arrest comes after police confiscated more than 20 cars in Exuma, suspected to have been stolen from New Providence.
According to a source, officers are also looking at rental car companies and possible connections in other islands, including Grand Bahama and Abaco.
All of the vehicles are Honda models and were, according to the source, legally licensed by the Road Traffic Department before they were sold to residents.
Supt Macktavaus Daniels, officer-in-charge of the George Town Police Station, said "several persons" in Exuma are also in custody in connection with the stolen vehicles.
"Yes, we are investigating the theft of a number stolen vehicles here in Exuma. We have persons in custody that could be facing charges sometime early next week. We have quite a number of vehicles suspected to have been stolen from Nassau, they are all Honda models. Once we are satisfied that we have obtained all the information, we will release it to the press and the public. We are investigating a number of departments and a number of agencies," he said.
Police have issued an advisory about getting "deals" from persons purporting to be legitimate businesspersons.
In a press release the RBDF is warning members of the public to be careful answering newspaper ads and buying vehicles, to always check the veracity of the sources because you might be buying stolen goods and also to call the police if someone approaches you with a deal "too good to be true."
Earlier this year, a hotel worker on Paradise Island was among 14 people arrested after police cracked a car theft ring in New Providence and in 2011 a multinational investigation began into a car smuggling ring involving the sale and importation of high end vehicles.
According to crime statistics, from January 1, 2013 to July 16, 2013, 605 cars were stolen on New Providence.
Police have said that Hondas are the vehicles of choice for thieves. 
Insurance companies are also limiting the number of Honda's they insure and Bahamian auto insurance premium costs are 15-20 per cent higher "across the board" due to a relatively high vehicle theft rate.
Anton Saunders, RoyalStar Assurance's managing director, said the absence of an automobile registry at the Road Traffic Department, combined with its lack of computerisation, meant there was little that could be done to eradicate fraudulent car sales.
He was backed by other leading insurance executives, who renewed long-standing calls for a Bahamian vehicle title system and a crackdown on wrecked vehicle imports as critical to combating high auto theft levels.
Mr Saunders, pointing out that Honda and Mitsubishi-branded vehicles were the most common targets for thieves, said that RoyalStar Assurance had few Hondas in its insured portfolio.