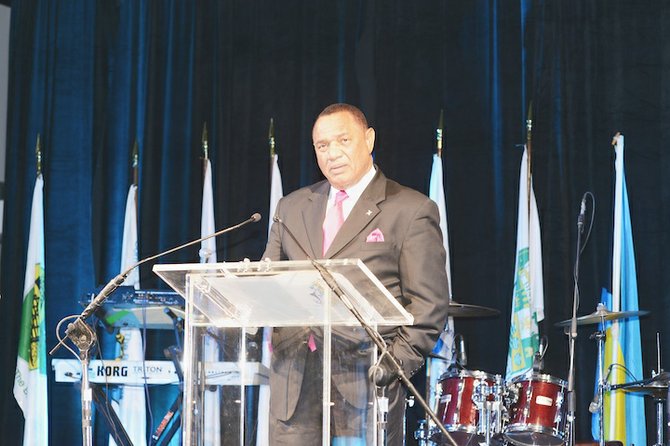 By KHRISNA VIRGIL
Tribune Staff Reporter
kvirgil@tribunemedia.net
PRIME Minister Perry Christie says he wants Bahamasair to be operated similarly to the Nassau Airport Development Company(NAD) because such a move would be economically best for the country.
Speaking publicly for the first time last night of the cash strapped airline, Mr Christie said the government has up to this point subsidised Bahamasair to the tune of $500 million.
But he suggested that the same financial assistance could not continue. Instead, he said, Bahamasair must now earn its place as the national airline by developing existing markets and pioneering newer ones. He added that he envisioned a public private partnership for Bahamasair in the future.
Later, Deputy Prime Minister Philip 'Brave' Davis told The Tribune that privatising Bahamasair was a possibility for the government. He said that the move was not "off of the table".
"We must now work," Mr Christie said, "to ensure that Bahamasair is able to match and really to give the country what it deserves (and) that is helping to pioneer markets (and) going into new markets. Clearly I must have something in mind by the way in which I have spoken.
"My government will be asked by me to examine Bahamasair, recognising that we have subsidised it to date over half a million dollars. It must be able to do more to justify being a national airline. My own view is that there has to be a public private partnership moving forward.
"I have very developed views on it and I use this occasion as the first occasion to talk about it and therefore in speaking I was directing the government and the people of the country to recognise that I am turning my attention specifically to Bahamasair."
Mr Christie made his views of Bahamasair known as he addressed scores of dignitaries and executives during the opening ceremony of the domestic arrivals, departures and international departures terminal of the Sir Lynden Pindling International Airport.
In addition he pin-pointed the need for Bahamasair to contribute more substantially to the Tourism sector.
"Surely a country which is a leader in tourism and financial services should be capable of causing Bahamasair to play a leading and dynamic role in meeting our airlift requirements which are essential to the growth of the tourism industry throughout the Bahamas," Mr Christie said.
On Wednesday, Bahamasair's Managing Director Henry Woods said he had no knowledge of privatisation talks concerning the airline, but he admitted that he would welcome major reforms for the company.