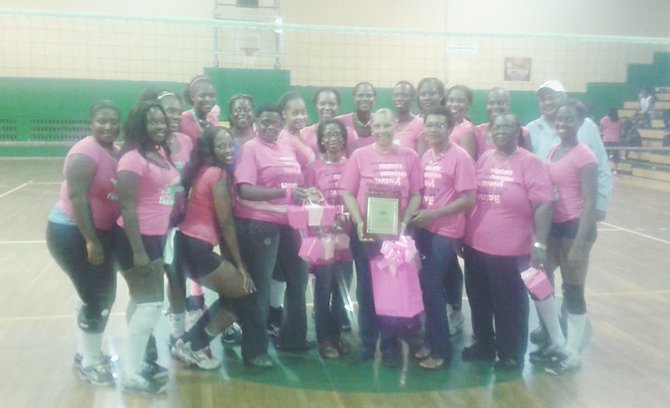 By RENALDO DORSETT
Sports Reporter
rdorsett@tribunemedia.net
THE local volleyball community came together Friday night to support October's breast cancer awareness campaign at the DW Davis Gymnasium with the inaugural "Volley For the Cure."
Hosted by the Johnson's Lady Truckers Cherrybombs, the event was sponsored by the New Providence Volleyball Association, BTC, Da Bahamian Dream Wellness and Nutrition Centre, Dr Tia Wilson at Proactive Chiropractic Wellness, Mueller Petit at Mystical Gym and Fitness Center.
In the first match, the Cherrybombs won in four sets over the Central Gas Cougars. Kelsie Johnson led the winners with 10 points and Michelle Thompson added eight. Britney Deveaux finished with nine points to lead the Cougars and Jannelle Curtis added seven.
In the men's feature, the Warriors won in three straight sets over the Synergy Champions, 25-19, 27-25, 25-18. Prince Wilson led the winners with 17 points and Victor Grant added 12.
Douglas Rolle led the Champions with seven points and Randaville Johnson finished with five.
The big winners on the night were the breast cancer survivors who were celebrated throughout the evening.
The goal of the Cherrybombs was to raise $1,500 on the night, with full proceeds donated toward the Sister Sister Breast Cancer Support Group.
The teams were outfitted in new pink uniforms to show their support for the cause on the court.
"We decided to host such an event in support of all the women that are fighting or are survivors of breast cancer," said Johnson. "The idea behind 'Volley for the Cure' is to join in the support and to reach out to these organisations. This is our first venture as a club and we look and hope to do more as we look to partner with other schools and civic groups."
"It is very exciting, just to know that for another year somebody is thinking not only of the sisters but of our community because we realise that whatever is done for us is going to affect someone in the community," said Sister to Sister president Andrea Sweeting.
"This is happening because of the mere fact that our women are being diagnosed so very early with breast cancer and we have this opportunity to assist them. We wish we can do more, but we know for a fact that every little counts."
The Sister Sister Breast Cancer Support Group is a non-profit support group of some 200 women between the ages 20 to 70 years, who have been diagnosed with breast cancer.
The group was founded in September, 2000, by Dr Locksley Munroe, Dr Charles Diggiss and nurse Charlene McPhee.