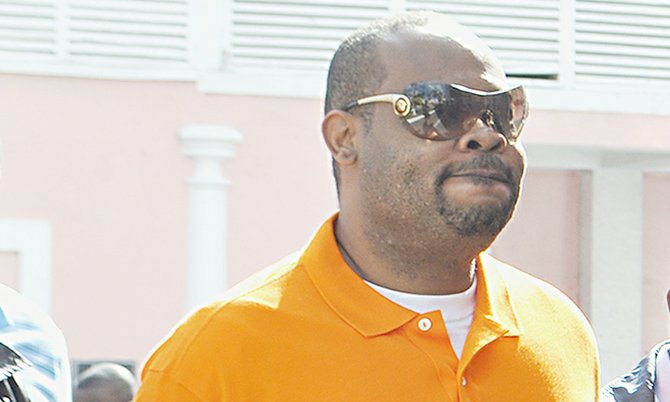 By LAMECH JOHNSON
Tribune Staff Reporter
ljohnson@tribunemedia.net
NO SENTENCE was handed down yesterday in the case of three men convicted of a policeman's murder as questioning the contents of their probation and psychiatric reports lasted the entire court day.
Two probation officers from the Department of Rehabilitative Welfare Services presented three reports stemming from their interviews with Stephen "Die" Stubbs, Andrew "Yogi" Davis and Clinton "Russ" Evans where the men maintained their innocence of the March 1999 death of Constable Jimmy Ambrose and attempted murder of Constable Marcian Scott.
The court also heard from Prison Assistant Superintendent Wilfred Ferguson concerning the conditions the three could endure if condemned to death.
ASP Ferguson admitted that conditions at the block were substandard due to overcrowding as inmates had to use buckets for the bathroom, and there were not enough fans for every cell.
A psychiatrist at the Sandilands Rehabilitation Centre deemed the three fit for sentencing on the basis that they had suffered from no mental illnesses and understood the legal proceedings they were undertaking.
However, the psychiatric reports were challenged on the basis that the psychiatrist had barely interviewed the three and in the instances of Stubbs and Davis, the reports were exactly the same, including their antecedents, which the psychiatrist admitted.
The reports are required by the court as the prosecution is seeking the death penalty, which defending counsel had fought on the basis that the prosecution did not comply with practice directions to serve them notice of that intent.
Justice Roy Jones, however, ruled that the death penalty will still be considered for the three convicts notwithstanding the prosecution's non-compliance with practice directions.
On July 25, Stubbs, Davis and Evans were each found guilty of murder in the March 1999 death of Constable Jimmy Ambrose and attempted murder of Constable Marcian Scott. Evans was separately charged with two counts of possession of a firearm with intent to put another in fear. He was found guilty on both counts.
Stubbs was represented by Murrio Ducille and Jerone Roberts while Davis and Evans were represented by Ian Cargill and Ramona Farquharson-Seymour respectively.
According to the evidence, Constable Ambrose and Constable Scott were shot at by Stubbs and Evans after a fight in a local nightclub. Ambrose was hit and died as a result of his injuries.
Evans possessed a firearm with intent to put Constables Frank Burrows and Calvin Robinson in fear of their lives.
All three men pleaded not guilty when the charges were initially read to them. The jury returned unanimous guilty verdicts on all counts.