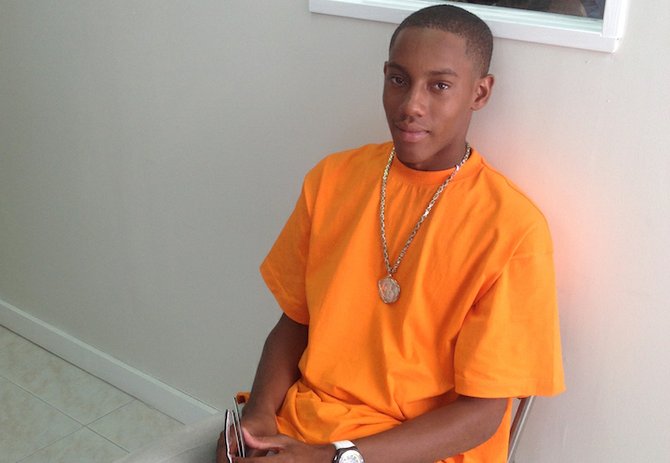 By SANCHESKA BROWN
Tribune Staff Reporter
sbrown@tribunemedia.net
A MOTHER is demanding an apology from the Royal Bahamas Police Force after a wanted bulletin for her 19-year-old son was distributed to the press.
On Sunday, at 11.27pm, the Tribune received 14 bulletins of wanted men via email from the force - 10 men were wanted for murder, three for armed robbery and one for rape.
Andre Thompson, of Sequoia Street, Pinewood Gardens was included, pictured on a RBPF poster wanted for murder. Police now say they had wanted to quiz him when they issued the bulletins but when he went of his own accord to the police yesterday, he was cleared.
Andre's lawyer, Christina Galanos and his mother Andrea say police knew he was not wanted because they spoke with him two days prior to the bulletin being sent to the press.
"We are quite perplexed that the police found it necessary to list Mr Thompson as wanted when Mr Thompson was turned into the custody of Inspector Fernander by myself on August 24, 2013 and was released on August 20, 2013.
"Further, we have been advised by Mr Thompson that on Friday, September 6 at approximately 4am, police officers came to his residence with is parents and he and his parent informed the police officers that he was already arrested and questioned," Ms Galanos said.
"Mr Thompson stated that one of the police officers made a call in his presence and confirmed that he was already arrested and released.
"Subsequently, Mr Thompson stated that the officers apologised to him and his family and said they had not taken his name out of the system yet and left.
"Mr Thompson and his parents also confirmed that since September 6, Mr Thompson has slept at their residence every night and no police officer has come to their residence to search for Mr Thompson.
"In light of the foregoing, we find it extremely inappropriate and inconsiderate that Mr Thompson's picture would be in the Tribune as wanted by police."
Ms Galanos took her client to CDU to surrender him around 2.45pm yesterday and said she was told he was not wanted and they left the station a few minutes later.
Stephen Dean, Assistant Superintendent of Police, said at the time the wanted bulletin was sent out Mr Thompson was wanted but he was cleared by the time he went to CDU yesterday.
Ms Galanos and Mrs Thompson are both demanding a police apology saying it could hurt his chances of finding a job as he is a young man seeking employment in the country.
Ms Galanos said even if her client was wanted by police, putting a man's picture in the papers and describing him as wanted ought to be the last resort by the police.