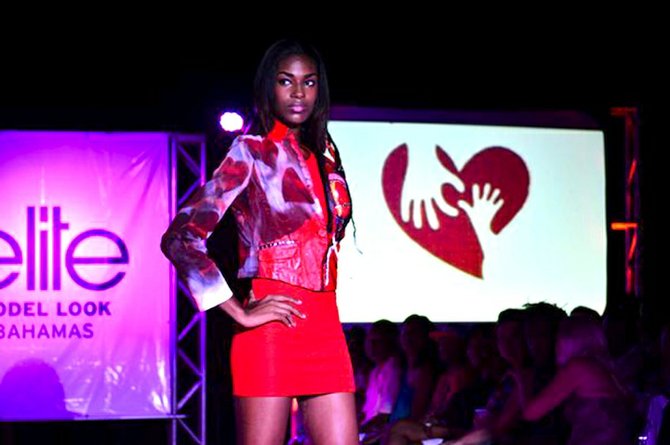 By ALESHA CADET
Tribune Features 
Reporter
acadet@tribunemedia.net
IT WAS a journey getting to the final leg of the competition but Shavon Nottage conquered all as she became the new face of Elite Model Look Bahamas, Sunday.
The Elite Model Look competition is well known world wide, but this year was the first time the franchise staged an event in the Bahamas.
Shavon proved herself against ten others and managed to come out on top. Participant Paige Mingo received the first runner up title.
"Elite's Model Look Competition has been going on for 30 years. We are now the 70th country to be apart of the competition," said Tessa Simone Lightbourne, director of Elite Model Look Bahamas, who has had a love for modelling and fashion her entire life.
Shavon will join 69 other models who will compete in a global competition in China in November.
"When they compete, the top 15 will be signed to Elite Model Management for three years. The top three will sign with an agreement of $300,000, sharing with all three of them," said Tessa.
Shavon is the reigning Miss Jr Grand Bahama. She travelled to Panama in July to compete at the Miss Teenager Pageant.
"I know that I have a lot to do, a lot of training, but I am ready to do whatever it takes. I do plan to go very far with Elite Model Look. I look at this as a start of my career and making my dreams a reality," said the 17 year old model.
This year, she also graduated from the St Paul's Methodist College, where she was an active member of the student body. She was president for the Student Christian Movement.
"If Shavon makes top 15 in China, she is basically thrown into fashion. She is only 17 so they will take the time to develop her. Elite is the number one modelling agency in the world, it is the same agency that launched people like Cindy Crawford and managed Naomi Campbell," said Tessa.
"Even beyond her not being signed with Elite Model Look International, she will be signed with Elite Model Look Latin in South America regardless. She is also signed locally with Fab Factor Studios, so that puts her in all kinds of markets," said Tessa, who believes there is a market for young Bahamian models.
"Certain brands do not sign persons that are not already signed with an agency. Like Victoria Secret, they only sign girls that are with a certain agency. They look for agencies like Elite to pick their models from. So the fact that you are signed with Elite then puts you in this category. These brands are going to be looking at your face when they look at all of the models that Elite has," said Tessa.
"Fashion is ever changing. This year you may not be the face they are looking for, for the summer. However you just may be the face for the winter. You never stop trying because you never know," she said.
During Sunday's competition, Tessa said she strived to show Bahamians that modeling is not only about hair and make-up and looking a certain size.
She said it is also about natural beauty.
"These girls worked out and they didn't starve themselves.
"They ate healthy; - salad, lean meats, fruits - and we wanted to teach them about living heart healthy lives, which is why the event was in aid of the Heart Foundation," said Tessa.
Along with her spot in the China competition and her two year Fab Factor modelling contract, Shavon secured herself a commercial with Bahamasair, a campaign opportunity with Hair International, a full portfolio with Drac Inc Photography in New York and VC Photography in Nassau, swimsuits, and $500 cash prize.