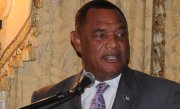 By AVA TURNQUEST
Tribune Staff Reporter
aturnquest@tribunemedia.net
THE nation took the first step on the road to creating a National Economic Development Plan yesterday.
The formation of a medium to long-term economic agenda will break the cultural "antithesis to planning", according to Prime Minister Perry Christie, who said that growth and development have been side-stepped by mass tourism and a political agenda.
Mr Christie explained that a national plan will integrate the public as stakeholders, and ultimately deepen democracy as the country looks to move away from the long-standing political platform of "macho politician". 
He said: "What has taken (planning) place is the
macho politician, that in contra-distinction to the methodical planning, the need to have an integrated and coordinated approach to the running of a government. 
Mr Christie added: "The macho politician, those who could make decisions, those who represent themselves to be super decisive, they impose upon this country a great sin. When visiting consultants come in and look at our country they hide their amusement sometimes to see the extent to which we have allowed our country to develop without fundamental provisions for accounting of what we do."
Hosted by the IDB, the planning conference gathered a cross-section of governmental agencies, non-governmental organizations and civil society for a workshop on critical success factors of an NEDP.
The discussions will guide the next round of assessment and consultations, IDB Country representative Astrid Wynter said.
Ms Wynter said: "The whole process of national development planning has to be a series of consultations, community based meetings, things with young people, different events to appeal to different roles of society.
"This is where some of the initial ideas about how the process would work will be fleshed out. Before you begin this process you have to have an assessment," she said, "so this is where we get some buy-in on what the next step will be.
She added: "Otherwise it's not really a national plan, it's just one more thing that some group of people have decided to sell to other people and that's not what it's about."
Participants engaged in panel discussions identifying development challenges; and sessions targeting key issues such as private sector partnership; Family Island development; youth involvement; and diversification.
Providing a case study on the development of a development plan for the Cayman Islands, Maria Zingapan, director, Economic and Statistics Office, stressed the importance of ensuring the plan was sufficiently budgeted. 
She also added that a constitutional plan, similar to that of the Philippines, could not be deterred by political parties. 
Yesterday, Ms Wynter said: "I do feel a sense that this is responding to a perceived need to get beyond what's been business as usual, which my party is in, or my group is in, we will stop and review everything, maybe cancel, maybe start again, so it means as a people you're constantly º as the Prime Minister said – you're hostage to the political processes, as opposed to the people saying this is our agenda as a nation and whichever government or party comes in to power there's a mandate that's bigger than any party."
She said: "We're looking at serious challenges, and if it's circumscribed by a term in office that means there's not enough time to do anything that is more medium and long term in effect, and so we're talking about the education system, you're talking about a generation to see changes. You have to wait to see your children grow up before you can say yes there has been a qualitative change, that's what I think people are energetic about, because it goes beyond political considerations, it goes to nationhood."