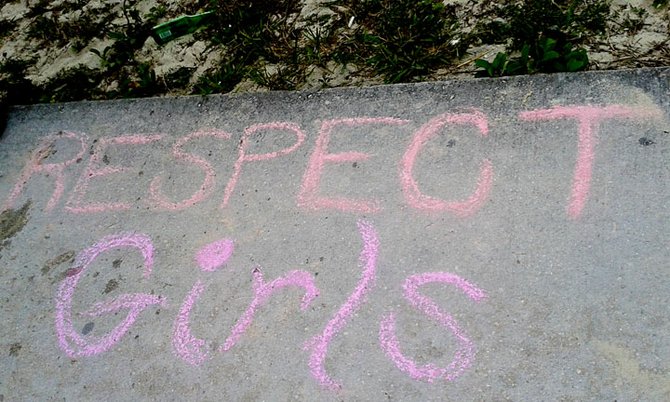 BAHAMIANS going to work on Monday morning will have encountered a host of messages aiming to tackle the problem of street harassment.
Activists took part in a chalk walk, scrawling messages in chalk on the streets to highlight the problem.
Alicia Wallace, of Hollaback! Bahamas, said: "It's International Anti-Street Harassment Week, and we wanted to literally take the message to the street. Chalk messages are not common here, and we knew it would attract the attention of pedestrians.
"We want people to think about the issue of street harassment and how it relates to them. Everyone has experienced it in some form, and though it has been normalised, it is definitely not normal.
"It is unacceptable, and educating the general public on the definition and everyday examples of street harassment is the first step to combating this problem."
More than 150 groups from 22 countries participated in Anti-Street Harassment Week last year, organised by meetusonthestreet.org.
Alicia added: "Street harassment is an everyday problem many people deal with on a daily basis. You would be hard-pressed to find a woman who makes it through an entire day without experiencing some form of street harassment.
'This includes all forms of catcalling, whistling, horn honking, kissing noises, and what Bahamians refer to as 'seeking' or 'seek-seeking'.
"Street harassment, no matter the form it takes, is not a compliment. Harassers sometimes think they are doing some sort of community services by yelling out, "Hey, Sexy!" They need to know that being yelled at or aggressively approached by a stranger, no matter his message, can be scary. A simple "Good morning" or "Good afternoon" will do, and it is up to the recipient of the greeting to respond."
Hollaback! Bahamas is a new group, due to officially launch on April 14.
Alicia said: "Anti-Street Harassment Week is about raising awareness, educating the public, and empowering people to respond to street harassment.
"Many times, when we experience street harassment, we are caught off guard or frightened. We either pick up our pace or try to ignore. We want to encourage people to respond to harassers, but only when they feel safe enough to do so. Sometimes politely saying 'That's no way to speak a lady,' or 'Please stop yelling at me,' is all it takes to show someone what they're doing is unacceptable."
The group is encouraging people to share their street harassment stories. Visit bahamas.ihollaback.org to share your story, read stories others have shared, and support others by leaving comments and clicking the "I've Got Your Back" button. The group also has a Facebook page (facebook.com/hollaback242) for updates.
More like this story