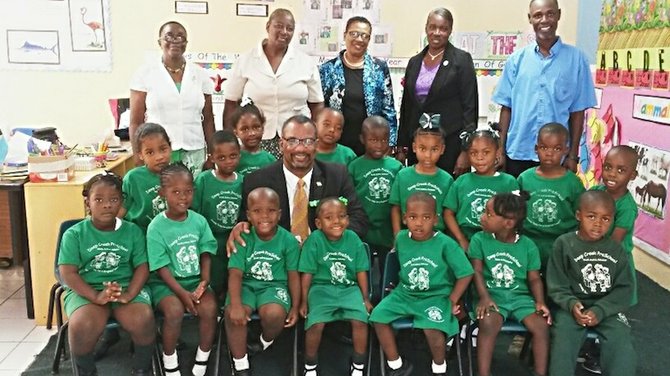 EDUCATION Minister Jerome Fitzgerald, accompanied by Bahamas High Commissioner to CARICOM, Picewell Forbes and senior officers of the Ministry, conducted a tour of the South Andros and Mangrove Cay District.
Calling upon the staff and students of Long Bays Pre-School, High Rock Primary School, Deep Creek Pre-School, Deep Creek Primary School, South Andros High School, Burnt Rock Primary School, Mangrove Cay High School, and Victoria Point Pre-School, Minister Fitzgerald participated in several school assemblies, perused the physical plants and heard from principals, teachers and students of concerns to be addressed.

During the visit, materials were presentied by the minister and Agatha Archer, assistant director of education, pre-school unit, to Ambassador Forbes for the children of Long Bays Pre-School.
The minister explained that he intends to expand pre-schools in the Bahamas so that more children may have access, since research has proven that early exposure to learning at this level gives a student a sound foundation and determines how well he does throughout his school life.
The group also inspected South Andros High School's Agricultural Unit, where the students produced onions, tomatoes, cabbages and other vegetables and proudly discussed how they were able to grow some of them hydroponically. The minister was equally impressed with the school's technical studies block where students on the electrical installation course demonstrated their skills.

Mr Fitzgerald encouraged students to think about their futures and to find out what the requirements are for college, the technical and vocational field or the workforce depending on the choice they make upon graduation. He told grade nine students about the National High School Diploma which will come into effect later this year, in which they will be required to pass a minimum of four Bahamas Junior Certificates (BJC's) in the areas of math, English, health science and social studies to graduate. He assured students that the appropriate interventions will be made for those who need assistance in meeting these requirements.
Encouraging principals, teachers and students to continue their positive work, Minister Fitzgerald also praised the leadership of district superintendent Paulene Adderley and invited her to make her district the model for others to follow.