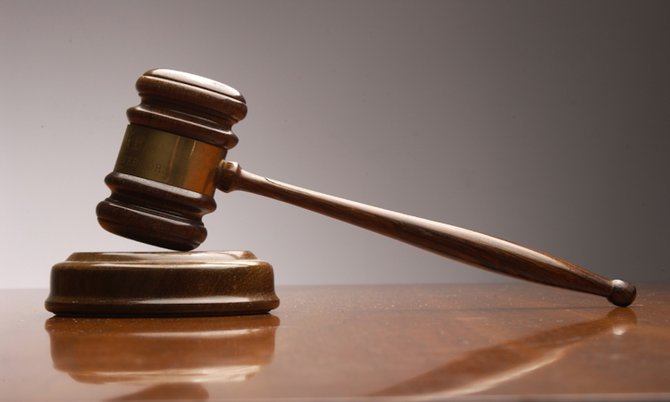 By LAMECH JOHNSON
Tribune Staff Reporter
ljohnson@tribunemedia.net
A SUPREME Court jury is expected to pass judgment today on 27-year-old Douglas Pratt, who is standing trial in connection with the fatal stabbing of his girlfriend on Adelaide Beach.
After Senior Justice Jon Isaacs summarises the evidence and submissions in the ten-day trial, the 12-member jury will deliberate on whether or not 22-year-old Shande Cartwright was murdered as the result of a robbery Pratt claimed had occurred; or was murdered by Pratt because she refused to continue a relationship with him.
It is claimed that on November 22, 2010, Pratt intentionally caused the death of  Cartwright, who was the country's 86th murder victim for that year. Cartwright, who was a client service representative at the Royal Bank of Canada, was found dead at Adelaide Beach with multiple stab wounds to her body near a blanket, wine bottle and a pizza box.
The autopsy report of Dr Caryn Sands, Princess Margaret Hospital pathologist, revealed that the woman was stabbed 17 times, with some of the wounds being as deep as five inches.
Pratt, the father of Cartwright's children, was arraigned four days later in connection with the incident. He has pleaded not guilty to murder.
Yesterday, Pratt's lawyer, Murrio Ducille, made his closing arguments and invited the jury to return a not guilty verdict based on the evidence that he claimed was like a bad apple that was "rotten to the core".
Mr Ducille said that one of the Crown's main witnesses, Danerio Rahming, commented that his client, whom he had assisted in wrapping his wounds, had kept changing up his story but "when he was asked to explain, he couldn't answer".
"And this case by now, you ought to know, revolves around the police. It revolves around a statement," he added.
Mr Ducille said that Pratt's claim of the couple being robbed and attacked could not be discounted because, notwithstanding the purported confession police claimed his client gave two hours after his arrest, the prosecution produced "absolutely nothing to suggest war, apathy or malevolence" on his client's part.
Mr Ducille told the jury that "this entire case has been contrived".
"You're trying the case which is meant to make sense. Not on how you feel, not on sympathy, not on emotions but on evidence," he added, before going on to address the evidence of Dr Ricky Davis, who treated his client's injuries.
Ducille asked the jury to use their own experiences and common sense to question how the wounds he suffered could be deemed superficial but, according to Rahming, he had to help wrap the wounds with cloth to stop Pratt from bleeding profusely.
Mr Ducille also asked the jury to question how blood was not found on the driver's side of the car Pratt was claimed to have removed from the scene after the fatal stabbing. He said the police collected a number of samples for forensic analysis, but produced no results from them.
"The prosecution is trying to have you believe that this was staged by Douglas Pratt," the lawyer said. "He and his girlfriend went there (Adelaide Beach) to have a moonlight drink with pizza and wine and he finds himself sitting here," Mr Ducille added as he pointed to the accused in the caged dock, "fighting for his life."
"The only sensible verdict you can arrive at, is that Douglas Pratt is an innocent man. And I invite you to return a not guilty verdict," Mr Ducille concluded.
In response prosecutor Sandradee Gardiner told the jury that "this case is about the death of Shande Cartwright."
Ms Gardiner told the jury that "this case is nothing but a crime of passion where Douglas Pratt decided that if she (Shande) wasn't going to be with him, she wasn't going to be with anyone else."
"Douglas Pratt has chosen not to testify and that's his right. You will decide what to make of that," she added. "But we alleged that Douglas Pratt killed her because she no longer wanted to be in a relationship with him."
The deceased victim's mother, seated in the back of the courtroom, was escorted out after bursting into tears when the prosecutor referred to the photo album of the crime scene where Cartwright was found in a pool of her own blood.
The prosecutor suggested to the jury that they could trust the evidence of Rahming even though he wasn't able to recall every detail about his interaction with Pratt when tending to his wounds. She further said that "the story he gave to Dr Davis was different from the story he gave to the Rahmings".
"Now there's someone with a gun," she said, adding that he did not tell this to the Rahmings.
The prosecutor asked the jury if they also found it strange that the physically slower and weaker of the two (Shande), if Pratt's story could be believed, was attacked first by the men who approached them.
"The least of the two on the beach is stabbed so many times and Douglas Pratt gets away with superficial wounds? You heard that there was one with a gun, but no gunshots fired?" the jury heard.
The prosecutor dismissed claims that the police contrived this case and said that the police investigation led to them wanting to take a statement from Pratt who was not under arrest at the time.
She then dismissed the claims that he was tortured into confessing after noting that the medical report of a physician at the prison, who examined Pratt, did not substantiate his claims.
"He decided to tell them the truth ... or something ... about how he killed Shande Cartwright and made some excuse as for why he did it. He said he and Shande were on the beach and he was trying to make up with her, he got a little loud, she stabbed him and he took the knife and stabbed her right back."
"Shande Cartwright was a young woman, a productive member of society and a young mother. She had a right, if she wished, to end her affair with Douglas Pratt, single or not," the prosecutor said.
"Often times the person in the relationship doesn't want to move on and Douglas Pratt decided that he wasn't finished with Shande Cartwright, who made a decision that cost her her life," the prosecutor concluded, before inviting the jury to find Pratt guilty of her murder.
's summation of the evidence begins at 10am.