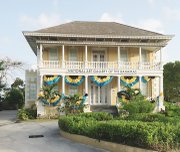 By LAMECH JOHNSON
Tribune Staff Reporter
ljohnson@tribunemedia.net
NO HEART was left untouched or unmoved in the audience of the world premiere of an international documentary film featuring a special needs school in Abaco that refuses to leaves any child behind.
At the end of the film, Every Child Counts, named after the school, screened on Saturday at the National Art Gallery of The Bahamas, the President of Ryerson University, Sheldon Levy, and his wife had pledged a $5,000 donation to the school's founder, Lyn Major, to continue her school's effort in providing alternative education for children with learning, developmental and physical disabilities.
"There's nothing but love seen in that film and you can buy a lot of things but you can't buy love and that's what I saw in that film today," said Mr Levy, praising the schools founder, the teachers, the volunteers, and the students themselves.
"When you do small things well, there's this wonderful ripple effect that makes great things happen and that's the common theme that we see here today. And you never know a child here becomes the leader in the community and starts that ripple. But you can be sure that that ripple, is starting and will continue.
"There is nothing, nothing in the world more important than providing good education to our children and therefore when you look at this film and you see our children, and they are our children, having the education that they so rightfully deserve, it just sets the ripple."
Many years ago, Mrs Major and her husband adopted twin boys at the age of 3 1/2, but soon discovered that they had severe developmental delays and would require special education.
Upon investigation, the couple realised that no special needs programme was available on Abaco. "Every Child Counts" was born after Mrs Major collaborated with Reverend Stan Kolasa of St. Francis de Sales Church and Dr S Kossack, of Florida International University and other parents with similar needs. To date, the school costs an annual $300,000 to $400,000 to run as its costs are covered by donations and modest tuition fees. The government currently provides salaries for only two of the instructors at the school.
The film, produced by independent film director Wendy Loten in conjunction with Ryerson University, chronicles ECC's journey from a typical island school to a beacon of hope for disabled children faced with limited education options.
"ECC is a marvellous place," said Archbishop Patrick Pinder after the screening of the film, adding that the "Archdiocese had a small hand in helping to establish it, but the story needs to be told."
"It deserves to be told and I'm so pleased it was told in a wonderful, technical medium. Of course, the resources that have gone into the school, the many hours that were volunteered, it's really something to be grateful for. But none of that really come together without that key component, which is Lyn Major, and I think it's important to tell the story which certainly deserves a wide distribution."
And according to the film director, the film will be widely distributed in the coming months on Canadian television and on DVD.
"We started out with this little thing that was going to be a fundraiser for the school and help at local events. Then it became much bigger thing," Ms Loten said.
"And myself and everyone who has been involved with it, all of the teachers who helped, all of the students who've been wonderful, just everybody was so great," she added.
The film, The Tribune understands, took three years to produce because of other projects and having to coordinate travel from Canada to Abaco for events that were happening at the school.
Absent from Saturday evening's film screening was Prime Minster Perry Christie, who, according to programme's pamphlet, was scheduled to speak, but was said to be off the island.
However, Social Services Minister Melanie Griffin appeared in his stead and apologised on his behalf, stating that she knew "this programme is very near and dear to his heart".
"In fact, when we were touring for a facility he mandated my ministry to build here in New Providence, he told me 'You have to go to Every Child Counts, you have to go there," she said.
Singing praises of ECC, Mrs Griffin said that visiting the special needs school "was a wonderful experience".
"In fact in my first term as Minister of Social Services and Community Development, I visited that facility and when I went this time, I really saw the development over the years. And this is just a wonderful, wonderful story, an expression with love and with people working together."
The minister emphasised that this year "is a wonderful time for persons with disabilities" as the government, in the near future, expects to table legislation concerning disability issues, particularly dealing with the provision of education for special needs children.
"I just want to encourage all of us that once that framework is laid, we continue uplift programmes like Every Child Counts to make a better way of life for children and persons with disabilities," Mrs Griffin said.
Mrs Major, the founder of ECC, fought back tears at the show of support from the audience and from such past graduates of the programme as Alonzo Williams who had nothing but praises for her.
"It's very rewarding for me," she told The Tribune.
"Alonzo was with us for a long time so we knew his struggles and what was happening. And we knew there was a great danger of losing him to negative things and negative impacts and so to see him succeed has been wonderful. It makes you keep going."
As for the film itself, she was initially sceptical about its production, believing it to be boastful. That changed, however, after seeing the effect her decision 15 years ago had on the lives children coming from challenged homes.
"I think it told the story of ECC well and my hope is that it will spread the voice of the children and children with learning disabilities and special needs, to make people more aware of them and to recognise that even if we don't have all the resources, we need to deal with them," she said.
"We can still provide a nourishing kind of environment where people can lend to their development and make them apart of the community, and make them productive in the community."
Anyone interested in making a donation and/or volunteering their time and services can contact the school on 367-2505 and visit www.everychildcountsabaco.org.