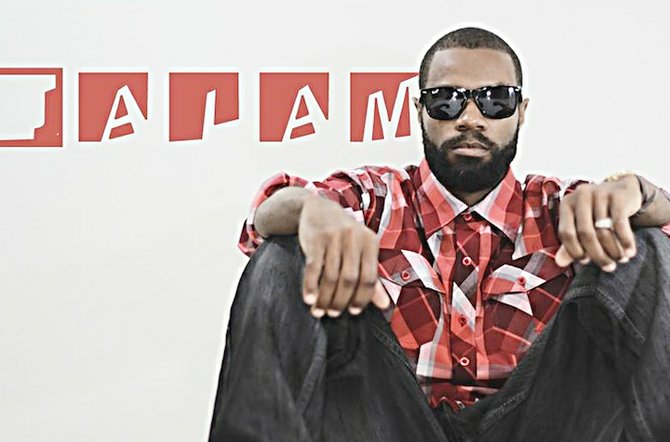 By LESH
Tribune Features Reporter
acadet@tribunemedia.net
THE BALLROOM at the British Colonial Hilton was filled with the sounds of contemporary reggae as Bahamian singer Jalam presented his new album, "Humble Servant", last Saturday.
He told In Ya Ear that the new album exemplifies him as a person and his calling as a herbalist.
"Track by track you can listen to the lyrics and you can actually hear the message that I put into each of the songs. There are 17 tracks on the album and they all have different personalities. Fifteen of those are full songs, and the introduction in a nutshell tells the listener what the entire album is about. There is also an interlude which is actually a proverb that we put together to help persons to get into the mood of the album," said Jalam.
A Junkanoo fusion track on the album is his favourite by far, the singer said,
The track, "Junka", was produced by Brent Justice and is a live recording of an upbeat but also melodious tune.
"You can hear the live goat skin drums, cow bells and a whole Junkanoo session where we captured the live element of Junkanoo. However, we formed it into a melody where persons can listen to it on a level the same way that they would an R&B song. We slowed it down and added different melodies and instruments to it. It is a favourite to listen to for a lot of persons," the singer said.
Jalam said aid the album took him about a year to put together because he found himself so busy travelling and engaging in other business ventures such as his book writing and herbal pursuits. He said music became an outlet for him to express his personal experiences.
"When I thought I had enough experience, I went and put together an album. But I didn't want just an album, I wanted something that has meaning, presence. The production, writing and lyrics were all excellent. The graphic work on the album was also excellent. We wanted a package that was also pleasing to the eyes," he said.
Jalam said he has been involved in music for a long time, so this is a labour of love for him.
"The other part of me is my calling. I've been called to service by the most high and by nature as well to help the people that are suffering from sickness," said Jalam.
He said a lot of people are now seeking natural alternatives to traditional medication. He said his calling as herbalist was placed upon him, but music has always been buried deep down in his soul. "My father was a musician and it has always been around me. It is my way of keeping my sanity and keeping grounded in this world of chaos. It is a way of putting my emotions and my experience in a form where persons can assimilate the information very easy. Even if I just do this for fun so that people can hear what I have to offer from my perspective, then I am going to do it. I may be able to reach some people through my music that I haven't been able to reach through my other endeavours," said Jalam.
A few years ago, Jalam released his first three singles – "No Mama Man", "Jah Guides" and "Sufferation" – which created a huge buzz both nationally and internationally.
He said the first single, "No Mama Man", became an anthem in the Bahamas and reached as far as Trinidad and Tobago, Jamaica, Cuba, Turks and Caicos, Florida, and even the United Kingdom.
Having performed at popular Miami night spots such as Club Bermuda and Club MVP, local boat cruises, island regattas and opening for Baby Sham at The Zoo nightclub, Jalam has become a musical force to be reckoned with.
His first big opportunity came some years ago when he was asked to perform in front of thousands at an international Reggae All Stars Concert, an annual concert put on by the family of the late, legendary Bob Marley. He opened for headliners such as Glen Washington, Capleton, Morgan Heritage and Damian 'Jr Gong' Marley, just to name a few.