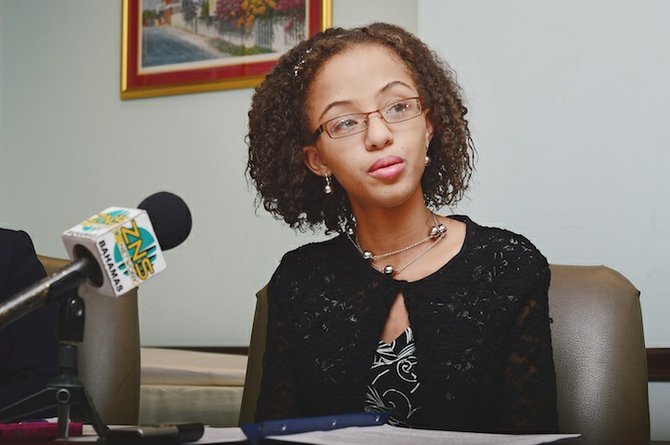 By KORTNEY RODGERS
EDUCATION Minister Jerome Fitzgerald announced 16-year-old Gabrielle Moss from Grand Bahama as the recipient of this year's All-Bahamas Merit Scholarship yesterday. The scholarship, which is awarded annually in a combined effort between the Ministry of Education, the Lyford Cay Foundation and the Central Bank of The Bahamas, is considered the country's most prestigious scholarship.
Alessandra Holowesko, president of the Lyford Cay Foundation, said that since 1993 the award has been given to "the single most outstanding applicant from a Bahamian high school".
Mr Fitzgerald outlined a number of accomplishments that qualified Miss Moss, a 4.0 high school graduate of the Bishop Michael Eldon School, for the $140,000 four-year scholarship to the US college of her choice.
"The current committee and those in the past have done an outstanding job. Their selections have always lived up to the high standards expected in the candidate selected for this award," he said.
"Well-rounded does not do justice in describing this remarkable young person, because everything she has done thus far, she has done exceptionally well."
Miss Moss, whose academic record was described as "simply amazing" by the minister, is the daughter of Marco City MP Greg Moss. She has achieved many honours, including valedictorian of her graduating class and best performance in the 2013 BGCSE exams for Grand Bahama. Miss Moss also received a SAT score of 2,100, which the Minister described as "bordering on genius".
Miss Moss is the third recipient to enrol in John Hopkins University in Baltimore, Maryland, where she plans to study Applied Mathematics and Statistics with a focus on Actuarial Science. Her career plan, relative to that of an All-Bahamas Merit Scholar, is to contribute to the national development of the country by impacting her community primarily in the area of education as an actuary and future teacher.
In an emotional speech, Miss Moss thanked the organisations and people involved in choosing her as the scholarship winner among other diligent finalists.
"Special thanks to the members of the screening committee for taking on the difficult task of selecting from ten brilliant, focused and talented finalists. I am deeply and sincerely indebted to you for your consideration," she said.
"I must inform you that there is a new generation – a generation of world shakers, of policy makers and risk takers rising in our country to take their rightful places as leaders of this nation. The day is imminent when we will return and implement our ideas, use our voices, and unite in our efforts to impact our beloved country. I look forward and eagerly anticipate that day," she added.
She also thanked her mother, Wendy Moss, father and other family members for their continued sacrifices and support. "Truly," she said, "I am grateful to God for placing me amidst a group of loving Christians who constantly remind me that 'with God, all things are possible'. You have raised me to firmly believe that this scripture is indeed true."