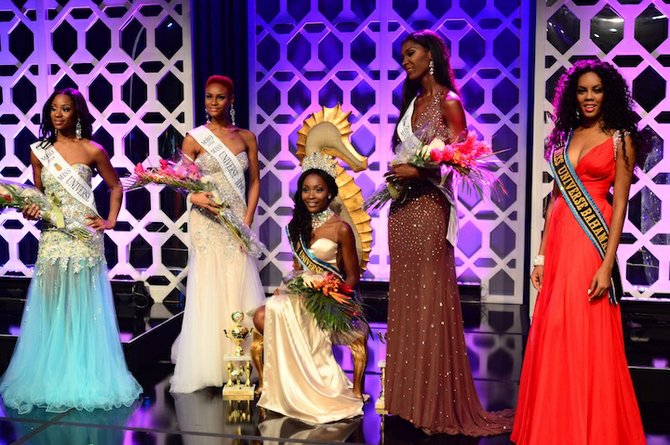 By JEFFARAH GIBSON
Tribune Features Writer
jgibson@tribunemedia.net
IT WAS a long journey for the 12 contestants of the Miss Universe Bahamas and Miss World Bahamas pageants, and at the end of it history was made as two Grand Bahama queens were crowned at the double header event at Atlantis on Sunday.
Tomacina "Tomii" Culmer and Rosetta Cartwright took home the Miss Universe Bahamas and Miss World Bahamas crowns, respectively.
Before she heads off to bigger and better things, Tribune Arts and Entertainment had a chance to talk with the new Miss Universe Bahamas about her future plans.
Now that the first leg of a long journey has come to a close, Tomacina, who is affectionately called "Tomii" by friends, said she is excited to reign as queen and promote the cause of encouraging inner peace and self-worth.
Tomii is no stranger to the modelling world, having won the second season of the Campari Caribbean Poster Girl competition. However, she is also a down to earth tomboy, who studied carpentry and joinery in high school and later went on to study automotive technology at BTVI.
She also playing flag football, sewing and singing, and is the lead singer in the band B12. In her free time, she is also a Brownies volunteer at the Freeport Primary School.
Entering this year's pageant was redemptive for Tomii, who competed in the 2011 Miss Bahamas showcase, but did not win. She reflected on that year and noted that she was a bit rough around the edges at the time, but said she is happy that she went through the process.
Tomii will immediately begin an intense season of preparation before she heads off to Brazil to compete in the Miss Universe pageant. She will also continue to promote her platform.
"My platform is to inspire nurture and encourage inner peace and self-worth. I was the girl that did not like to look at herself in the mirror, and I realise that it caused so many negative things in my life. I actually shaved my head in July and I started on a journey of completely loving myself, and when I started working with my (Brownies) girls I noticed that a lot of them were bullies and were not paying attention in school and I taught them to love themselves. For the short term that I was with them in the last school year I have seen tremendous changes in the girls. I am looking forward to my reign," she said.
Model, entrepreneur and television star Nicole Murphy was a judge for the Miss Universe Bahamas pageant and noted that it was a tough job to choose a winner, but Tomii's confidence set her apart from the other contestants.
"The way she spoke, her presence, what she spoke about, the way she answered her questions – her gown was absolutely stunning. She just took over the stage," Ms Murphy said.
"We are very pleased with the results," noted Miss Bahamas Organisation President Michelle Malcolm. "It was an extremely tight competition this year, but we are confident that Rosetta and Tomii will represent not only the Miss Bahamas Organisation well, but also the Bahamas, and of course the Grand Bahama Community."
Miss Congeniality and People's Choice winner Rokara Hepburn was the first runner-up. Rokara, who at 6'2 was the tallest of all the contestants, said that she will enter the pageant next year and will start preparing for that very soon.
Ominique Burrows was second runner-up and the winner of the Most Photogenic Award. Toni Bethel rounded up the top four and won the BTC Multimedia Award.
Toni, who dropped close to six dress sizes in less than a year just to compete in the pageant, said that although she did not capture the crown like she had hoped, she believes the journey was just a stepping stone towards better opportunities.
"From when I was a little girl beauty pageants and being a lady were a part of me. My journey had a lot to do with my weight loss, but it was hard work and determination, but I did it and I feel good. In spite of me not taking the crown like Tomii did I feel that there are other opportunities out there, perhaps greater. Like I say, my footsteps will always be ordered," she said.
Sunday was the first time the Miss Bahamas Organisation held a Miss Bahamas Universe and Miss Bahamas World double header event. Earlier that day, Rosetta Cartwright was crowned as Miss World Bahamas 2014.
Before a crowd of pageant enthusiasts, family and friends, Rosetta bested six other competitors to win the coveted title. She also won awards for Most Photogenic, Best Talent and People's Choice.
Shanae Strachan, who won awards for Best National Dress and Best Evening Gown, was the first runner-up. Chantal O'Brien took home the BTC Multimedia and Beauty With a Purpose awards and was second runner-up. Rontre Rolle was the third runner-up and won the Miss Congeniality award, as well as Best Swimsuit.