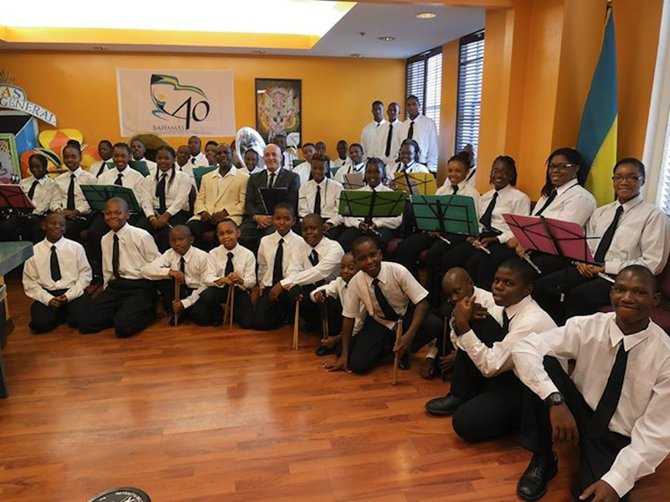 DIRECTORS and members of the Golden Gates World Outreach Ministries Marching Band paid a courtesy call on Consul General H Ricardo Treco and members of the Consulate staff in Miami on August 1.

Under the command of Bishop Ross Davis of Golden Gates Assembly, Inspector Seldin Adderley re-established and developed a music programme/band for young people between the ages of seven and 19 in the church in 2002.
It was under the director's guidance that the membership of the band was extended to individuals in the community as well. Inspector Adderley said that after 12 years, the band has continually been transformed as members have graduated, joined the workforce or left to pursue tertiary education.
For the past two years, he said, leaders and volunteers have been rebuilding the band's membership, which currently stands at about 60.
Despite this being the first time that some members have been exposed to reading music and playing instruments, the band boasts a repertoire of gospel renditions, hymns and classical pieces with a variety of concert wind and percussion instruments.

By invitation of Pastor Michelle Taft, a Bahamian, who together with her husband, heads the Jesus in Action Ministries, an affiliate church of Golden Gates World Outreach, the band along with its directors, volunteers and chaperones travelled to Miami, Florida.
There they participated in a youth summit and performed at various churches, including St Agnes Episcopal Church in Overtown, Miami.
The consul general and staff were treated to a fantastic performance of gospel and well known tunes, after which the band appeared on the streets of downtown Miami with their flavourful renditions and drum line beats.
The Golden Gates World Outreach Ministries Marching Band left South Florida on August 5.