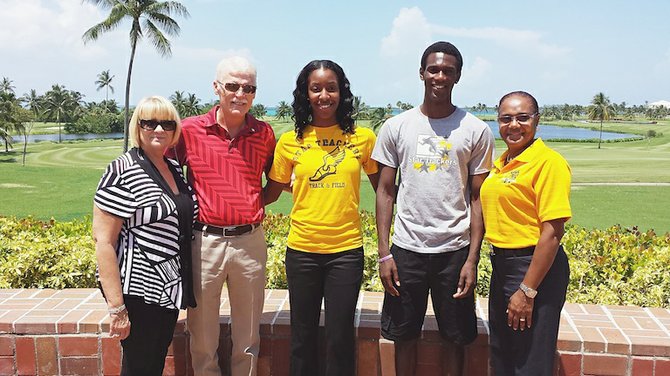 By BRENT STUBBS
Senior Sports Reporter
bstubbs@tribunemedia.net
TWO more student athletes from the Star Trackers Track Club will be heading off to school in the United States next week to further their education.
The club, headed by coach David Charlton, has announced that Star Trackers recent high school graduates quarter-miler Kelson Pierre and triple jumper Taryn Rolle are the recipients of athletic scholarships to Wayland Baptist University and Drake University respectively.
The duo had a send off luncheon recently that was hosted by club sponsor Mr and Mrs JR McDonald at the Ocean Club on Paradise Island. McDonald, the major sponsor of the club's annual Star Trackers Meet, congratulated both athletes and gave them his usual encouraging words of advice and wisdom.
"They both came to us and worked extremely hard to get to where they are today," said Charlton, who along with his wife and club treasurer Laura, also attended the luncheon. "We are extremely proud of their accomplishments, considering the fact that they both had to make some adjustments.
"Taryn came to us as a sprinter and after I looked at her, we sent her over to do the jumps and she excelled at that. Then Kelson came in from CI Gibson and although we only had one year to work with him, he made the statement to me that track and field was his ticket out of Kemp Road where he lives. He said he's going to do whatever it takes to get a scholarship."
Although they are members of their track club, Charlton refused to take all of the credit. He thanked Bernard Rolle, the Parents Track and Field Association's administrator, for his assistance in securing the scholarship for Pierre at Wayland Baptist and he lauded coach Peter Pratt for the role he did in helping to groom and open the door for Rolle at Drake University.
"She is a member of our team, but Peter Pratt is her personal coach," Charlton said. "He made the connection for her to get into school."
Rolle, the sister of former UCLA sprinter Karlton Rolle who will be entering medical school this month, is a graduate of Queen's College where she passed 10 Bahamas General Certificte of Secondary Education (BGCSE) examinations, inclusive of 5 As and 5 Bs.
Rolle, 17, won a bronze medal in her specialty in the triple jump at the Jr Central American and Caribbean (CAC) Championships in 2012 and is a three-time CARIFTA team member, having represented the country in 2011, 2012 and 2014.
The daughter of Luther Rolle, a coach of the club's primary school children, will be studying business management.
Pierre, 19, made his first national team this year when he went to the CARIFTA Games. He was referred to the club by his former physical education teacher, Natasha Huyler, at CI Gibson and was a project in the works. His goal was to run at least 47 seconds to earn the athletic scholarship and he did. He intends to study marketing.