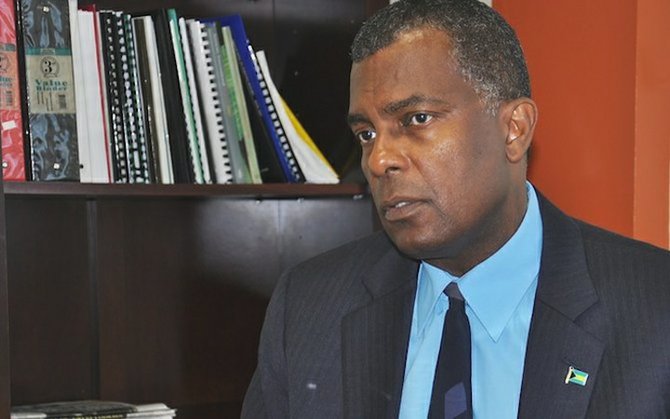 By Nico Scavella
DESPITE the impassioned contributions by two PLP MPs expressing disagreement with the proposed constitutional amendment bills in Parliament this week, Foreign Affairs and Immigration Minister Fred Mitchell said he is not concerned about any "dissension" within the ranks and dismissed the behaviour as "public posturing".
When asked by The Big T yesterday about his concern over the statements made by certain government members, Mr Mitchell simply chuckled and replied: "There is no back and forth within the PLP."

"The Progressive Liberal Party is united on this matter," he said. "Now you may see some individual posturing here or there, but I take that just as public posturing. I think it was just what Parliament does. It comes from the French word meaning 'to speak,' so people spoke, and that's how it goes."
Mr Mitchell's comments came after both Fort Charlotte MP Dr Andre Rollins and Marco City MP Greg Moss clashed with several party members in Wednesday's heated debate on the issue of amending the constitution, a debate so intense that House Speaker Kendall Major had to intervene several times to maintain order in the lower chamber.
Dr Rollins at one point shouted from his seat at Damian Gomez, Central and South Eleuthera MP, over the details of the fourth bill, which seeks to end discrimination based on sex.
After Mr Gomez said that those against the government's push to eliminate gender discrimination "may have insecurities of their own sexuality," Dr Rollins lashed out and called the statement a "most inane, most asinine" and "puerile argument, childish and shallow." He also expressed his preparedness to step aside as "government whip" if the bills weren't changed to accommodate his recommendations.
Mr Moss meanwhile stated his disapproval with the second bill because he felt that no person who marries a Bahamian should get automatic citizenship, something that prompted Mr Mitchell himself to rise to his feet several times to explain that the process to get citizenship is subject to approval and stress that "there are rules upon which someone is granted citizenship."
Labour Minister Shane Gibson also challenged Mr Moss' argument by saying that people who think that anyone can "just walk in and get citizenship (they) are absolutely wrong."
Then adding to the tension on Wednesday, Free National Movement Leader Dr Hubert Minnis declared that his party would not support any changes to the constitution after previously pledging the FNM's full support of the bills.
Despite his minor part played in Wednesday's row however, Mr Mitchell said that the focus should not be on the parliamentary discourse that is currently taking place, but rather on what is to come.
"We'll see where people line up when the question is actually put," he said. "That's the important point. The constitution says on the third reading thereon, there should be a certain majority, and that's the thing you look at, not what's happening now."
Debate over the four bills is set to continue on Wednesday in the House of Assembly, with the national referendum scheduled for November 6th.