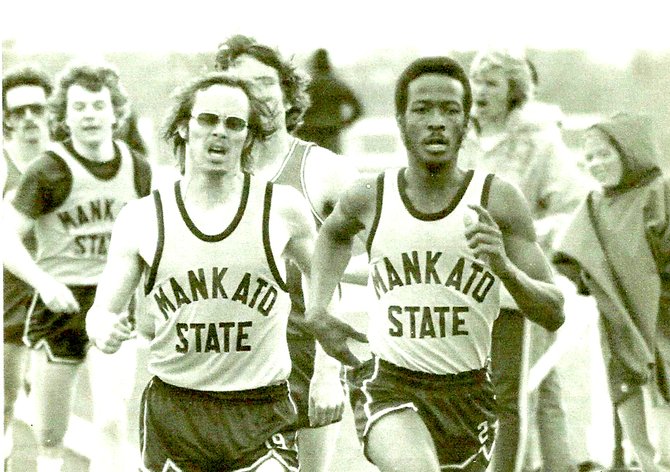 By BRENT STUBBS
Senior Sports Reporter
bstubbs@tribunemedia.net
THIRTY seven years since he graduated from Minnesota State University where he had an outstanding career as a middle distance runner for the Mavericks, Foster Dorsett will be returning to Mankato, Minnesota, to be inducted into the Hall of Fame.
The ceremony is scheduled for October 3 when Dorsett will become just the second Bahamian to be enshrined. He will follow Peter Prartt, who was inducted in the Class of 1991.
The formal induction ceremony is scheduled to take place at the Hall of Fame Induction Dinner in the MSU CSU Ballroom. The MSU football team hosts Southwest Minnesota State 2pm Saturday, October 4 in the annual Homecoming Game and the inductees will be introduced at halftime.
Dorsett, now a senior officer in the Ministry of Education and a vice president of the Bahamas Association of Athletic Associations, will be inducted along with women's soccer icon Amber Dusosky, football All-American Jeffrey Spann and former men's gymnastic great Bob Wuornos.
"I feel humbled. You have hundreds of people go through those doors, bot not many of them get elected to the Hall of Fame," Dorsett said.
"So I feel very grateful and humbled to be a part of that great body because it's only something that comes along once in your lifetime. So I am really thankful and grateful for this opportunity."
During his tenure from 1972-77, thanks in part to legendary coach Gladstone 'Moon' McPhee from Grand Bahama and coach Chuck Peterson, who was the head coach at Minnesota State, Dorsett ran the 400, 600 and 800 metres.
He earned All-American honours in the 800m, won the most valuable player (MVP) twice, team captain for two years and ran on the schools' 4 x 400m records. He also held the school's 220 yards record of 21.3 seconds and was conference champion in both the 400 and 600m.
One year after he enrolled at Minnesota State, Dorsett was instrumental in helping to recruit Pratt to compete for the Mavericks.
Pratt, by the way, was the 1976 NCAA Division II triple jump champion and school record holder of 52-feet, 5-inches. He was a former MSU long jump record holder at 25-11 and qualified for four NCAA Division II events in 1977, including the long jump, triple jump, 100m and 4x100 relay.
A two-time All-American in the triple jump in 1976 and the long jump in 1977, Pratt was also an outstanding volleyball player who played on the national team in the Bahamas and gave assistance to MSU programmes. He graduated from MSU with a bachelor's degree in education and has worked on a master's degree at Arizona.