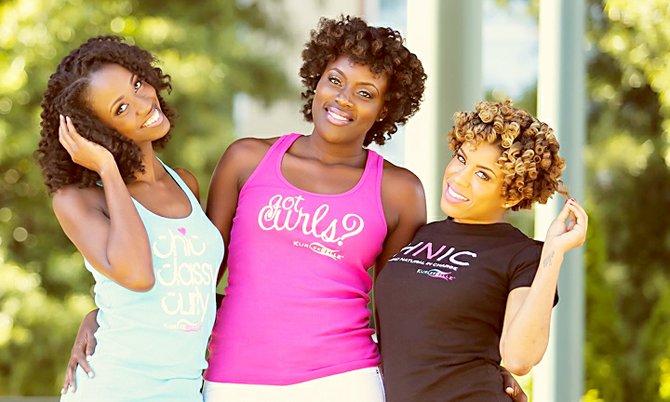 By ALESHA CADET
Tribune Features Reporter
acadet@tribunemedia.net
AS the name implies, it is all about beautiful curls for the Bahamian hair care company Kurlee Belle.
Born out of a passion for entrepreneurship and a love for the natural, Kurlee Belle is a dream come true for Bahamian businesswoman Terrinique Pennerman.
And it all started the day she decided to wear her hair in its natural state.
Terrinique said she wanted to use products that were made from natural ingredients for natural hair. She searched for organic or natural products, but could not find products that were specifically made from natural ingredients for natural hair that really worked for her.
The Abaco native began mixing her own products using shea butter, mayonnaise, honey and coconut oil. These homemade concoctions of creams and butters were working so well on her hair that a friend suggested she start her very own hair care line.
The entrepreneur said the idea lit a spark in her and she started researching natural ingredients and how they worked with the chemistry of hair.
Her goal was to build a brand with integrity while applying her knowledge from business school to make products from natural ingredients that really worked.
Terrinique's ideas turned into a brand name and successful business, Kurlee Belle. A company that offers eco-friendly, high performance hair care products for curly hair, natural hair and relaxed hair with a tropical/Caribbean theme inspired specifically by hair recipes from the islands of the Bahamas.
"Since I was a child I always wanted to be an entrepreneur. I am a bit of a free spirit and very carefree. I started off in the financial industry after earning a Bachelor of Business Administration in Finance. I worked as an investment banking analyst at Wachovia Securities, now Wells Fargo in Charlotte, North Carolina, for about four years. I chose finance because I have always been good with numbers, but the career never left me fulfilled. So I applied to graduate school because I wanted to change my career path. I was accepted into Duke University, Fuqua School of Business and it was there that I pursued my passion of entrepreneurship and marketing," said Terrinique.
It was while studying at Duke University for her Master of Business Administration's degree that Terrinique started Kurlee Belle. She said being the founder and CEO of Kurlee Belle is her dream job.
"It took a lot of learning and research to build a company from scratch and create unique product formulas for each product. I was determined to know all there is about the hair care industry so I have been in the field for six years, launching products in February 2013. I have been involved with every detail about the company from the creative to the business side. I can design a product label, balance a check book, negotiate a legal contract or critique a product formula," said Terrinique.
Kurlee Belle is headquartered in Charlotte, North Carolina, however, products can be purchased internationally from the company's website at www.kurleebelle.com.
In the Bahamas, all products are available at the Nak'd Body Bar in the Scotiabank Plaza, Carmichael Road. Natural hair styling is also available at the Nak'd Body Bar with Kurlee Belle products.
Kurlee Belle offers six natural hair care products. Each product is inspired by hair recipes from the Bahamas: Almond And Shea Butter Moisturising Shampoo, Thirsty Kurls leave-in conditioner, Banana Nut and Avocado Deep Treatment, Kurl Defining Creme, Jelle Coconut Styling Gel and Kurlee Tropical Oils Blend.
Terrinique said her overall goal is for Kurlee Belle to grow into a successful global brand.
She said she would like for each of products to sit on the bathroom counters of women from all around the world.
"I want to hear women in Africa, Canada, Brazil, the United Kingdom and Europe say they use Kurlee Belle on their hair and it is inspired by hair recipes from the islands of the Bahamas," she said.
"Naturals love that our products are made from natural ingredients and do exactly what they say on the label. It was very important to me to create a brand of integrity, and that is why it took five years to fully launch Kurlee Belle. We receive rave reviews from customers about all of the products. Once they try them, they are hooked," said Terrinique.
She said the Banana Nut and Avocado Deep Treatment is the company's best seller.
"Naturalists love it because it smells amazing and leaves the hair soft, defined and healthy," she said. "Thirsty Kurls Leave-in Conditioner is another best seller with reviews from customers saying how much they love the product because it detangles on contact, provides lots of slip and leaves the hair very manageable. Kurl Defining Creme is also praised for its moisturising properties and the fact that it defines curls leaving the hair light and fluffy."
Terrinique gives credit to her mother, the late Margaret Swain-Meeres, with her success. Although she was just 19 years old when her mother passed away, Terrinique said she taught her so much about life.
"She would say, 'If you don't have anything good to say then don't say it at all.' She was very kind to everyone. She made sure that my hands were never idle and encouraged me to go the extra mile at school and at work. When I started my first job out of high school as a teller, she told me, 'Whatever they ask you to do at work, you should do it even if you are not getting paid for it. Always go the extra mile'," said Terrinique.
She believes that this is one of the reasons that she has been successful in her business venture.
For the Bahamian market, Terrinique said she has plans to offer the Kurlee Belle line in Abaco and Grand Bahama. She is also planning a series of local events such as "Naturals Who Brunch" for women who wear their hair natural or are interested in going natural. Internationally, she has several events planned, including the College Kurls Tour for universities and colleges in the US, a natural hair seminar in Paris, France this September, and offering products in-store in Lagos, Nigeria.