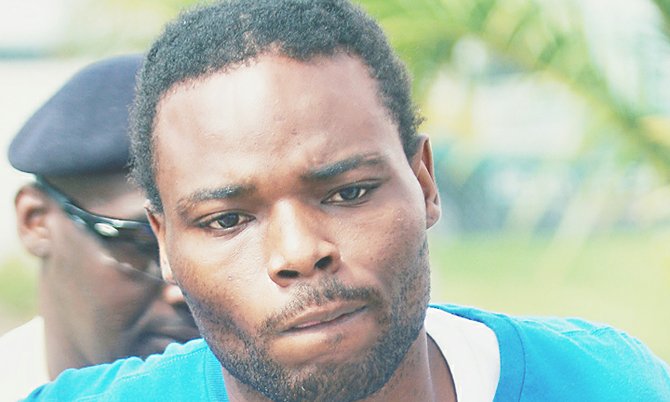 By LAMECH JOHNSON
Tribune Staff Reporter
ljohnson@tribunemedia.net
A PSYCHIATRIST yesterday called double rape convict Oscar Ingraham "a serial rapist" and a "danger to society."
Dr Sridas Boudha, from the Department of Rehabilitation, presented his findings to Justice Carolita Bethell in a report that was specifically requested by the judge to help her in determining an appropriate sentence for the 30-year-old who was convicted of two separate rapes of two women, which occurred months apart in 2012.
Dr Boudha said that in his interview with Ingraham during his remand at Her Majesty's Prison, the convict showed no remorse for the crimes of which he had been convicted.
The doctor further noted that Ingraham failed to inform him of a previous conviction for stealing in 2005 and a previous case in 2002 when he was charged with rape. However, he was never convicted of the latter charge.
Dr Boudha said that Ingraham "has a personality disorder" and that the convictions "show that he is a serial rapist and a danger to society."
"Individuals like him take pleasure in breaking the law and violating people," the psychiatrist added.
When given an opportunity to question the findings, Ingraham asked Dr Boudha if he understood why he couldn't show remorse in these cases.
"I'm an innocent man and as a result, it's not possible to show remorse," Ingraham said.
Ingraham is now scheduled to be sentenced on September 9 for the separate home invasion and sexual assaults of two women. The first attack took place on February 28, 2012 and the second happened between 11pm on May 29 and 5am on May 30, 2012.
Ingraham, according to evidence in the trial concerning the first incident, broke into the home of two foreigners, and robbed both of them of cash, cell phones, travel documents and government issued identification and work permits, valued at $3,325.
In the trial that concluded last month concerning the second incident, evidence revealed that he broke into a woman's western New Providence home and robbed her of $165 cash and a $200 Nokia cell phone before sexually assaulting her with a gun to her head, despite her pleas for mercy.
The second incident had occurred during an island-wide power outage.
The charge of rape carries a sentence of up to life imprisonment.