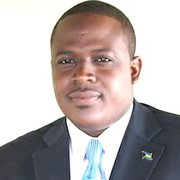 By SANCHESKA BROWN
Tribune Staff Reporter
sbrown@tribunemedia.net
POLICE have four men in custody in connection with the shooting death of Latore Mackey, press secretary in the Office of the Prime Minister and deputy director of Bahamas Information Services.
The Tribune was told that police now believe robbery may have been the motive for the killing.
Officers from the Drug Enforcement Unit arrested the suspects, a 24-year-old from Palmetto Avenue, a 22-year-old from Young Close, a 20-year-old from Bimini Avenue and an 18-year-old from Young Close between 1:30pm and 3:30pm Tuesday.
Mackey, 37, was shot in the neck around 4:30am off Market Street on Monday.
Officers responded to reports of gunshots being heard in the White Road area and when police arrived on the scene, they discovered Mackey slumped over the wheel of his government issued vehicle with a gunshot wound in his neck.
He crashed into a utility pole after being shot and was pronounced dead at the scene.
"He had cash on him, there was a significant amount of money in the vehicle," Supt Paul Rolle said yesterday. "From our preliminary information the persons tried to rob him, he tried to get away and that is when he was shot in the neck. Shortly after he lost consciousness, he crashed into a utility pole and died."
Supt Rolle said police are not sure if the shooter was inside or outside the vehicle when Mr Mackey was shot. They are also investigating the possibility that he may have been followed from the club that he owned.
Mr Mackey was the owner of the Blue Reef Sports Bar and Lounge, a karaoke bar on West Bay Street.
A resident of the Market Street area, who wished to remain anonymous, told The Tribune that she heard shouting between two men and three gunshots before a loud crash. When she looked out of her window she said she saw a man slumped over the wheel of a jeep with "blood all over the air bag and dashboard".
Mr Mackey's death was the fifth in less than 36 hours and brought the country's murder count to 83 for the year, according to The Tribune's records.
Police also arrested a 20-year-old man in connection with the murders of George Nixon and Charles Davis.
Nixon, 23, was shot and killed last Thursday on Lyon Road off Kemp Road. Police believe Nixon was attacked by two men, both armed with handguns and wearing dark clothing.
Nixon was previously charged and convicted of housebreaking.
Davis, 22, was killed early Sunday morning.
According to police, Davis was walking on Johnson Alley off Wulff Road when four men in a silver coloured Honda Accord drove through the corner.
One of the men got out of the vehicle and discharged several shots at Davis striking him multiple times about the body.
Police also arrested a 33-year-old man of West Ridge Estates for abetment to the murder of Davis.
Prime Minister Perry Christie said on Monday that the government will hold several special meetings this week to decide what can be done immediately to stop the escalating crime in New Providence.
Anyone with information on any of the country's latest murders is asked to contact police at 911 or 919, the Central Detective Unit at 502-9991 or Crime Stoppers anonymously at 328-TIPS.