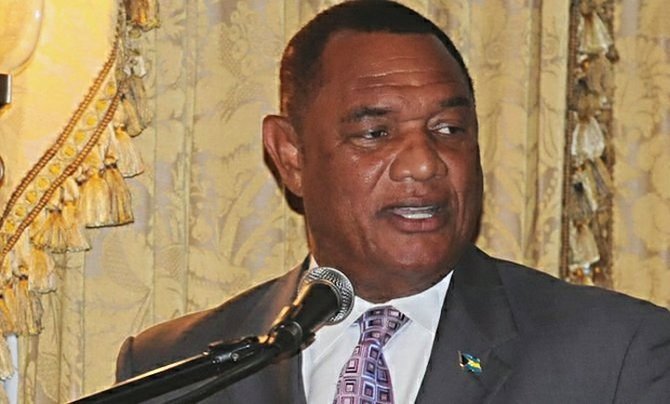 By KHRISNA VIRGIL
Tribune Staff Reporter
kvirgil@tribunemedia.net
FORMER Progressive Liberal Party Cabinet Minister George Smith said Prime Minister Perry Christie will be encouraged to offer himself to lead the party again if PLP political strategists believe he is the best candidate to help the party win the next general election.
However, Mr Smith said, delegates who will convene in a convention to cast votes for possible new leadership will ultimately have the final say.
"The PLP as it stands is out to win the next general election," he said. "That necessitates that the party and the government do their best to fulfil promises in terms of job creation, in dealing with crime, and seeing to the successful implementation of national health insurance among other things.
"The party will evaluate what will give it the best chance of retaining the government and that will be who will lead, who will remain and who will be dropped. However, I anticipate that we will have at least two conventions before 2017 and during that time the political strategists in the party will determine if Mr Christie will give us the best chance at winning and he will be encouraged to lead."
He added: "The conventions will be the only place where that is to be realised. No one determines that they want to hand it over to anyone. If the person wants to be leader they have to acquire 50 per cent of the delegates' votes plus one."
This comes after Mr Christie told reporters on Thursday that he was prepared to lead his party into the next general election.
However, Mr Christie said he was working on a succession plan to ensure that his party is prepared for a possible transition of leadership ahead of the vote.
Mr Christie explained that he did not want to reveal his future plans because he did not want to be seen as a "lame duck" for the remainder of his term.
However, he added that there were several capable candidates with aspirations for leadership of the party.
Mr Christie said: "We have a wonderful country, we have a wonderful democracy," he said. "Per chance the people of this party, even Mr (Philip) 'Brave' Davis who is my deputy and is a wonderful aspirant, all of them may say 'Christie we think you better hold on.'
"I don't know what I'd do if they said that, but this is what happens in a democracy and you can go back to it.
"I'm always prepared, yes (for another term), whether I go another term is another matter but I'm preparing the party and the country for the kind of future it's going to have."
The comments came at a ceremony to commemorate his 40th anniversary as a politician.