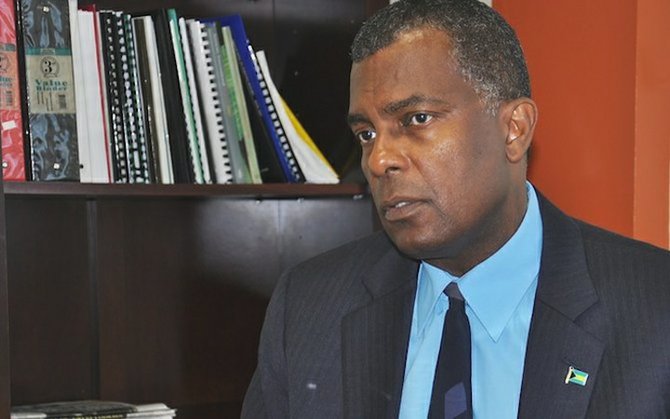 By AVA TURNQUEST
Tribune Chief Reporter
aturnquest@tribunemedia.net
A SUSPECTED illegal migrant allegedly threw barbed wire in the face of an immigration officer in a bid to evade capture during a routine check yesterday morning.
Immigration minister Fred Mitchell confirmed that the male officer sustained cuts and lacerations to his face as a result of the incident, and had to receive stitches at hospital.
Mr Mitchell said he could not confirm whether the officer was the same man in a photo that was heavily circulated on social media, and has stirred intense social commentary.
On social networks, FaceBook and WhatsApp, the photo of a man with several cuts across his face is purported to be the result of an altercation with a Haitian woman.
However in yesterday's incident, Mr Mitchell explained that the officer was chasing a man who ran from officials during a check at Cowpen Road.
"This man [officer] was giving pursuit of a suspected illegal migrant along Cowpen Road," he said. "When he had almost got the man, the individual was alleged to have thrown barbed wire in his face and made good his escape.
"I have been informed that the man [alleged culprit] is now in police custody. The officer received some injuries that resulted in cuts and lacerations to his face, he has had stitches put in his face and he was released from hospital. So he should be back on the job shortly."
Mr Mitchell said he could not speak to whether tensions between the country's migrant population and law enforcement had increased since stricter regulations were implemented on November 1. He maintained that there have been no claims of abuse filed against immigration officers or complaints over their conduct. Mr Mitchell explained that officers were briefed routinely on their obligation to maintain professional and humane treatment during the course of executing their duties.
"What I know is that law enforcement officers are doing their jobs as far as I'm aware," he said. "Law enforcement is a difficult thing, it's not easy. I just spoke to the enforcement chief to ensure that he briefs officers to remember that they are to act according to the law, not to be involved in abuse or insulting language, and the checks continue.
"I have also appealed to the public during this time, they have to be patient and allow due process. On the part of migrants, there is no reason to run,
that's just it. There is no reason for any law-abiding person to run."