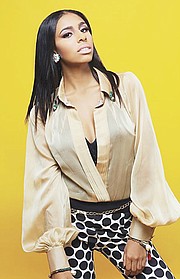 By FARAH
Tribune Features Writer
jgibson@tribunemedia.net
TEEN singing sensation Angelique Sabrina is topping off a successful year with the release of her first album, "One For The People". 
Angelique, who has been busy around the clock this year, said that it was only until she was completely satisfied with the album that she decided to release it.
"One For The People" includes hits such as "Pull Up", "Stop Sign" and "I'm Ready", as well as a single that bears the album's title.
"The album has been in the making for the past two years. I have been working on this for a long time and people have been asking me for it for sometime now, and I did not want to release it until I was completely satisfied. With it being my first album that is something I cannot take back, so once it is out there it is done. I just wanted to make sure it is perfect, and now it is finished and I am satisfied," she told In Ya Ear.
"There are 17 tracks on the album and most of them no one has heard before. There are some songs on there that people know. But mostly it is all new music that I have written, that is authentic to me, and that I am really proud of. For next year I hope to be working on the second album."
Angelique also recently released the first single off the album entitled "Fire Blaze" that is currently on rotation at local radio stations.  
"We just finished shooting the music video for this song. The teaser is out right now, so people can look at that if they want to. The full video will not be released until sometime in January," she said.
Throughout 2014, Angelique has performed at numerous events and shows, both locally and abroad. She said her goal was to increase her visibility while marketing her brand and music. She believes she was successful in doing so.
"I am proud of how far I have come. If I was asked how many people I thought would have known my name a year ago I would have not been able to say this many people. But when you really love something and it means that much to you, it is not at all easy. Even though this kind of business appears glamorous, there is a lot of behind the scenes that is literally sweat. Some people do not think that this much sweat and hours goes into it, but some of it is not fun. However, when I think about the end result I find myself two years, three years down the line and I see how far I have come and I am still working to get where I want to be in my mind, which is to have a very solid fan base all around the world," she said.
In addition to performing at various events, a highlight this year for Angelique was acting in the "Romeo & Juliet" stage play during the Shakespeare In Paradise theatre festival. 
"Most people thought that I started off in the studio, but I started off in school plays. They have got me more comfortable singing in public. I was more into the singing, acting and dancing all at once. But doing 'Romeo & Juliet' was what I was used to doing, but the public was not used to me doing that and they said 'that must be new for you', but for me it was like finally I get to do what I always wanted. I love theatre and that was one of the highlights of my year," she told In Ya Ear. 
The singer hopes to pursue her "obsession of theatre" more in the new year.