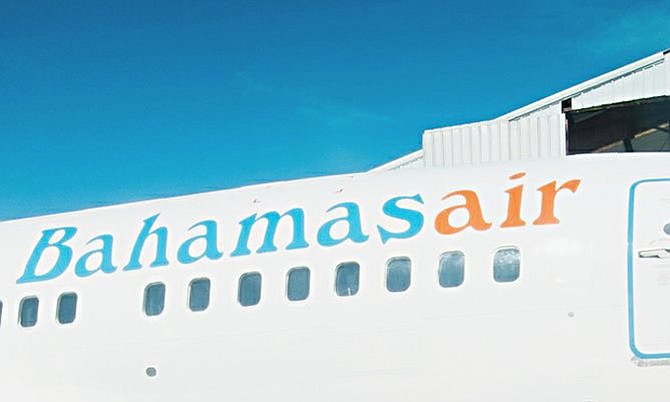 By NICO SCAVELLA
Tribune Staff Reporter
nscavella@tribunemedia.net
POLICE were summoned to the Lynden Pindling International Airport's International Departure Lounge yesterday evening to calm hundreds of disgruntled Bahamasair passengers after the airline announced it had cancelled its flights to Miami.
The announcement came after the passengers, a mixture of both residents and tourists, reportedly spent more than 12 hours yesterday waiting in the departure lounge for their flights.
The announcement last night also came amidst a standoff between Bahamasair pilots and the government over failed salary negotiations with government officials for their new contract.
The pilots staged a "sick out" Monday afternoon after representatives from the Bahamas Airline Pilots Association reportedly "walked out of a meeting" with government over contract negotiations. Pilots also called in sick yesterday, leaving flights grounded.
Bahamasair's announcement to their passengers reportedly came shortly after 5pm yesterday evening. As a result, hundreds of passengers planning to travel for the Christmas holidays had to leave the departure lounge.
When the announcement was made, the disgruntled passengers stormed the Bahamasair service desks in the main international terminal, shouting "We want our money back" to Bahamasair representatives, passengers told The Tribune. It was then that police were summoned to help quell the unrest.
After the crowd was moderately settled, Bahamasair officials worked frantically to deal with the restless passengers, offering them vouchers for lodging, food, and transportation. When The Tribune arrived at the airport last night, passengers were still very irritated, with police officers having to maintain their presence in the terminal to thwart any additional unrest.
One of the passengers, Stan Higgs, a Bahamian from Palmetto Point, Eleuthera, said his outbursts at Bahamasair officials caused police officers to threaten to remove him from the terminal.
"We had a bunch of people screaming 'We want our money back,'" he said. "The cops came in and told me I had to shut up or they'll take me out. I was trying to see if they would give me back my money to get my family of five into Fort Lauderdale or West Palm Beach by other means. I want my money back so I could travel. I also need to be put up for the night. I have nowhere to stay in Nassau."
When The Tribune arrived at LPIA yesterday morning, a number of passengers said their flights were delayed due to the pilots' industrial action.
Passengers in the Domestic Section of the airport said Bahamasair was using other local airlines like Western Air to assist in transporting their passengers.
One traveller, who preferred to remain anonymous, told The Tribune that he had travelled from Abaco earlier yesterday on his way to Miami to see his young son, who is in poor health at Miami Children's Hospital. However, his 2.45pm flight had been delayed until 8pm, only to be cancelled until today.
"This is a big setback for me because I was off to meet my son who is ill," he said. "It just sucks. You have so many people being inconvenienced. This throw off everything for everybody. You had countless people in Abaco airport with this delay… this just sucks."
Another passenger, Margaret Nwankwo, who was confined to a wheelchair due to recent surgery, spent more than 18 hours waiting on a flight between Monday and yesterday. She expressed her disgust at the Bahamasair pilots.
"My personal take on the pilots, it's ridiculous," she said. "It's totally ridiculous. Because when I already paid you for a service, don't tell me you cancelled and you can't give me my money back. This isn't a credit card purchase, this is cold hard cash in your hand. Render the service which I paid for."
Bahamasair, in a statement on Monday, apologised to its customers for the inconvenience caused by the industrial action taken by the pilots.
Labour Minister Shane Gibson told The Tribune yesterday that the government would not operate "with a gun to its head" on the issue and said he hopes to have a resolution on the matter by today.