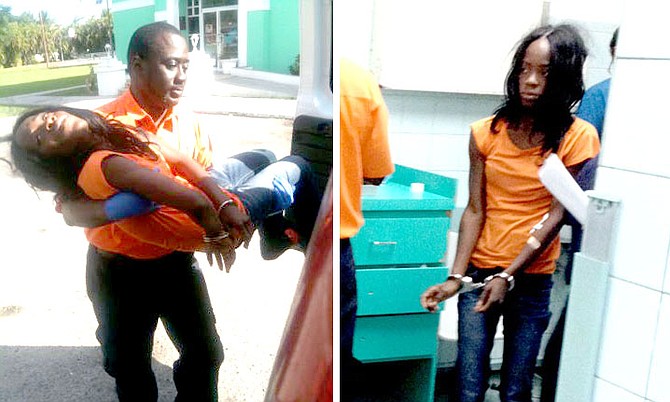 A YOUNG woman who accused Immigration officers of assault earlier this month was taken into custody after another confrontation with officials yesterday.
Dahene Nonord, a 19-year-old born in the Bahamas of Haitian parents, was taken to the Princess Margaret Hospital around 2pm by ambulance from the Carmichael Road Police Station, where she had been taken following an incident allegedly involving a group of immigration officers in the street.
Details of the incident are unclear; however, her legal representative from the Grand Bahama Human Rights Association (GBHRA), while unable to confirm whether Ms Nonord was formerly charged, did express concerns for her wellbeing last night.
The Tribune can confirm that the 19-year-old was still in handcuffs last night as she waited to be seen by medical staff at PMH's Accident and Emergency department.
The GBHRA, in a statement from its president, Fred Smith, condemned the actions of the immigration officers as "a case of calculated revenge on an innocent whistleblower" and the police for allegedly denying her attorney's constitutional right to see her and for not releasing her cellphone to his custody.
Yesterday's incident follows accusations by Ms Nonord against Department of Immigration officers earlier this month. Ms Nonord accused officers of assault and "wrongfully" apprehending her after they picked her up during a routine exercise on Cowpen Road.
In the initial matter, Ms Nonord said that she was not carrying her Bahamian documents that show her legal status to reside in the country when Immigration officials approached her. She explained that she has applied for Bahamian citizenship and is currently waiting for government to make a decision on her application.
The assault, she claimed, happened as an immigration bus took her to the Carmichael Road Detention Centre and continued during her short stay at the facility on December 3.
Following her release, Ms Nonord said she visited the Department of Immigration on Hawkins Hill to file a complaint. However, she said an official there said her account was not the truth and did not allow her to make a report.
Speaking to the initial claim, Fred Mitchell, immigration minister, said there were two mechanisms that could be used if any individual felt wronged. These include either sending a written complaint to the Department of Immigration or reporting the matter to the police.
Late last night, the Department of Immigration released a statement on the matter, which said: "The Department of Immigration takes note of allegations being made in social media purportedly by Fred Smith QC of an alleged assault on someone he describes as a client and a member of the Grand Bahama Human Rights Association (GBHRA). The Department will make no comment on these allegations or any of its ongoing criminal investigations, save that the public should take whatever Mr. Smith says with 'grains of salt'. He is well known for alarmist and inflammatory rhetoric which does not often approximate with the facts. At the end of the day the Department will provide the public with all of the facts regarding anyone in the custody of the Department.
"We again say that the Department of Immigration has not been involved in or sanctioned the inhumane treatment of anyone within its care or control."
More like this story