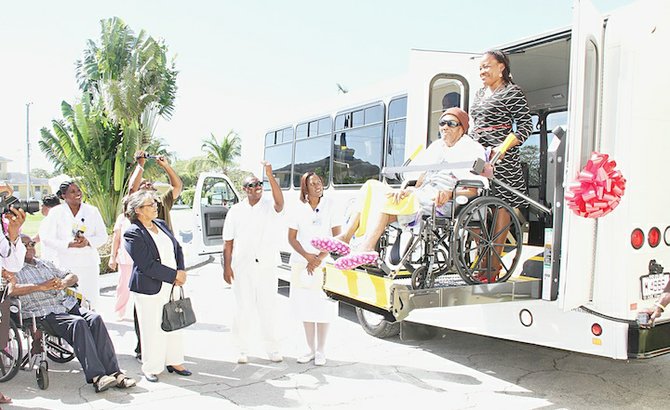 By KHRISNA VIRGIL
Tribune Staff Reporter
kvirgil@tribunemedia.net
IT WAS a special day at the Sandilands Rehabilitation Centre yesterday as officials commissioned a new bus that will assist in transporting patients who are wheelchair-bound.
Not only is the van, which seats 10 wheelchairs comfortably, a source of transportation; having the new addition is a vital part of the rehabilitation programme, healthcare professionals said.
SRC's administrator Sharon Williams said the wheelchair bus will enable patients to be taken out for field trips and be made aware of events taking place beyond the walls of the facility.
She said: "For those of us who take certain amenities for granted like the ability to get up, jump in a car and proceed to various appointments and outings, you might question the necessity of such a celebration. But imagine for one moment you being without freedom to move as you desire. Now imagine yourself without transportation and wheelchair bound.
"Through this seemingly simple prioritisation of resources the quality of life for our clients will be increased significantly with more visits to cultural sites, not to mention important experiences like seeing the changing scenery in our nation."
Public Hospitals Authority chairman Frank Smith added that for too long the Bahamas has failed to pay enough attention on the disabled. The new bus, he said is a step in the right direction.
Mr Smith said: "How many of our banks, schools buildings and even our churches and yes sometimes even our government and public buildings lack basic access for wheelchair bound or visually impaired Bahamians? We can do better.
"The wheelchair bus will offer tremendous value to the Sandilands Rehabilitation Centre, both for residents and out-patients."
The government's acquisition of the bus is another stride in enhancing healthcare in the Bahamas. There have been several upgrades and renovations to the SRC to advance their efforts.
Health Minister Dr Perry Gomez said back in December that the Christie administration is committed to advancing healthcare to meet the increasing needs of Bahamians.
"The ever increasing demands," he said, "for quality healthcare as well as the lofty expectations of internal and external clients, has placed a high demand on the existing staff and infrastructure at the Sandilands Rehabilitation Centre."
Dr Gomez said administrators, healthcare professionals and other staff at the facility "cannot continue with business as usual if we are to adequately address the growing demands on the services we offer."
Of particular importance, the minister said, is that going forward, mental health treatment is provided at the early stages in an effort to decrease the number of cases admitted to the centre.