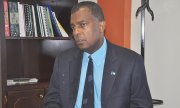 FORMER PLP Cabinet Minister George Smith has criticised the number of overseas trips taken by Foreign Affairs Minister Fred Mitchell.
The respected political veteran was giving his assessment of the current Cabinet when he questioned Mr Mitchell's travel habits and the lack of some key diplomatic appointments.
"On the face of it," he said, "the Minister of Foreign Affairs is attempting to do his job. I think he travels a lot, perhaps a lot more than is necessary."
Mr Mitchell is scheduled to speak on Thursday at the Institute of International Relations, University of the West Indies campus in Trinidad on Thursday. His topic will be "Saving Caricom."
"I'm very disappointed," said Mr Smith, "that no one has filled the ambassador to China position and the ambassador to Brazil position and I think we need to improve the quality of our foreign services."
And, Mr Smith had some harsh words for some of Mr Mitchell's colleagues as well.
He said: "Ryan (Pinder) is making the rounds, but I don't know how much results you'll see out of that. Kenred Dorsett hasn't done anything in Housing yet."
Regarding Deputy Prime Minister Philip Davis, he said: "I believe the Deputy Prime Minister met the Ministry of Works in shambles, in a terrible state, and I think he is trying to put some infrastructural developments in place to counteract that."
As for National Security Minister Bernard Nottage, he said: "I think Bernard Nottage is riding the political support he has, but it is a very daunting task he faces, a major problem in the country. I believe we will see results in the future."
"I believe," he said, "the Minister of Education (Jerome Fitzgerald) is making a gallant effort to bring some order to his ministry and I think you will see a good result out of his efforts.
"I also think Glenys Hanna Martin (Minister of Transport and Aviation) is doing a commendable job and the Minister of Health (Perry Gomez) is trying to tackle the tremendous difficulties he inherited in that area."
Mr Smith also praised Minister of State for Finance, Michael Halkitis, saying that a "prudent Prime Minister sometime in the future will see the advantage of making him the substantive Minister of Finance."
He declined to comment on other members, but added that "two great people to consider" for party leader would be former Minister of Education Alfred Sears and former PLP chairman Raynard Rigby.