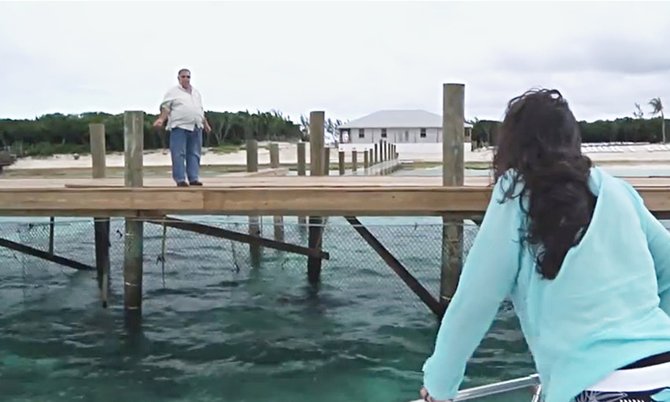 By RUPERT MISSICK Jr
ENVIRONMENTALISTS are continuing their opposition to the dolphin facilities at Blackbeard's Cay with the release of a YouTube video documenting a fact finding exhibition to the development led by Re-Earth's Sam Duncombe.
Blackbeard's Cay is located on Balmoral Island, a site opposite Sandals Royal Bahamian resort on New Providence's north coast.
The video published, under the account of Save The Bays Bahamas, shows Ms Duncombe and Bahamas Humane Society president Kim Aranha visiting the development, surveying the outside perimeter of the facility and concluding that the pens used to house dolphins appear to be too shallow, with inadequate protection from the elements,
In November of last year, Minster of Tourism Obie Wilchcombe pledged to support the establishment of an Environment Review Tribunal.
Although approvals for the Blackbeard's Cay project were given under the former FNM administration, Mr Wilchcombe said the current administration gave the project the green light after it was reviewed and found to be in compliance with regulations.
A lot of economic hope rides on Blackbeard's Cay, as more than $5 million has already been invested in its redevelopment into an upscale visitor experience that investors hope will create 100 jobs.
It had employed around 100 persons prior to closure, and owners indicated that staffing numbers following the re-opening could ramp up to 200 if it proved successful – creating a net employment gain for the Bahamian economy.
But the Downtown Nassau Partnership has warned it would strenuously oppose the development of a retail alternative for cruise ship passengers at Blackbeard's Cay.
Several Bay Street merchants have already expressed concern that if the rumours of a shopping village at the new destination development are true, it will deal a fatal blow to the downtown shopping area which depends on cruise ship business to survive.
The developers, led by St Maarten businessman Samir Andrawos, have been tight-lipped on the details of the project, but the well placed Downtown Nassau Partnership (DNP) source said retail at Blackbeard's Cay had better remain restricted to a gift shop, as originally understood.
"No one opposes more options for cruise ship passengers. Island excursions and water activities are not a problem, but we will not allow an alternative to Bay Street to be developed a few miles off the coast of New Providence," he said.
"We will do everything in our power to prevent that."