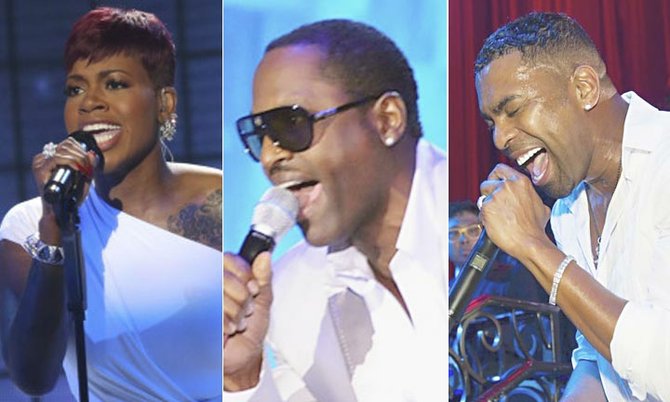 By LESH
Tribune Features Reporter
acadet@tribunemedia.net
LIVING UP to its reputation, Fresh Entertainment is bringing not only one, but three Grammy nominated and award winning international artists for their second annual Celebration of Love concert.
The concert to be held at the Seaside Pavilion on Arawak Cay on February 22, featuring soul singer Fantasia Barrino, the "So Anxious" Ginuwine and the "My My My" Johnny Gill.
Last year's first Celebration of Love concert, featuring Grammy award winning artist R Kelly, brought in several firsts for the Bahamas. The first visit to the Bahamas for the R&B artist and the first performance for the new concert space Seaside Pavilion. Patrons who enjoyed listening to R Kelly under the big tent will have a chance to experience it again with these three stars.
Fresh Entertainment Bahamas' Stefan Davis explained in a digital press conference, last Friday, the inspiration behind the artist selection for the 2014 Celebration of Love.
"Our previous show last year we highlighted R Kelly, and this year we want to keep everything fresh and that is pretty much what it is. Fantasia is coming off a great album in terms of sales and all that stuff. A lot of people have been asking for her too, so we want to make it a great experience," said Mr Davis.
Fantasia has a loaded collection of songs but to date, she is most known for her chart topping "Lose To Win" single. Since performing the song for the first time on her return to the American Idol stage last year, the success of it has skyrocketed.
Mr Davis said this year at a Celebration of Love, they are also focused on making the show more intimate.
"We want to bring everything inside underneath the pavilion. Last year it was a little bit spread out and this year we want to bring it closer together," he said.
At the first concert, the catwalk of the stage was ejected into the crowd for a close up experience of the A list artist. This time, Mr Davis said they will not be adding a catwalk, but they are definitely adding more seats at the stage side.
"Last year that space was sold out so there is demand for those seats," he said.
Just like last year, Ms Davis said security is their number one concern. "We want to make sure our patrons are safe and feel safe, so we use the Royal Bahamas Police Force as our security and we are going to do the same this time," he said.
Ticket Locations for the 2014 Celebration of Love concert include Airbrush Junkies Mall at Marathon, The Velvet Hanger Maderia Street, Burns House Saunders Beach, and Gizmos and Gadgets in Grand Bahama.
For updates and information on event, tickets and artists, visit FreshEntBah.com or follow the hashtag #FreshCOL on all social outlets.