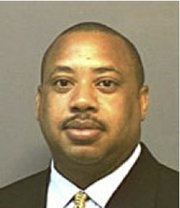 By LAMECH JOHNSON
Tribune Staff Reporter
ljohnson@tribunemedia.net
SUPERINTENDENT Clayton Fernander nearly broke down in Supreme Court yesterday when recalling his hospitalisation after being shot by two men after he pulled into his driveway to take dinner to his wife.
The officer of 31 years, who identified Maurice Armbrister and Excel Josey in court as his attackers, was asked by prosecutor Neil Braithwaite if he had received medical attention following the late night April 10, 2013, incident.
"Yes" the officer said silently after a five second pause to compose himself.
"What were your injuries?" the prosecutor asked.
Supt Fernander held up his braced right hand and appeared to struggle to say the words. "My hand... my left chest," the jury heard.
The prosecutor asked if he received treatment and the officer replied: "I'm still under doctor's care from then till now."
Both Armbrister, 23, of Faith Gardens and Josey, 21, of Balls Alley, face a charge of attempted armed robbery and attempted murder relating to the April 10, 2013, incident.
Armbrister was further charged with possession of an unlicensed firearm and ammunition – a black and silver Smith and Wesson .45 pistol with 29 .45 bullets.
Supt Fernander was shot multiple times in the arm and upper body when two masked, armed men confronted him shortly after he pulled up to his home in the St Vincent Road area.
Supt Fernander was armed at the time, but was not able to return fire.
During proceedings yesterday, prosecutor Braithwaite asked Supt Fernander where he was on the day in question. Supt Fernander said he was at the South Beach police station where he was officer-in-charge.
"On that date, you recall what time you left work?" the prosecutor asked.
"I left the office like 6.40pm somewhere around there," Supt Fernander said.
He continued: "I received a call from my wife who wanted something to eat," which led him to Bamboo Shack on Soldier Road. He parked on the eastern side of the establishment and left his car to place an order.
The prosecutor asked the officer what he was wearing and Fernander replied that he wore jeans pants, tennis shoes, an orange silk-like shirt as well as hand and neck chains.
"You didn't go to work like that?" the prosecutor asked.
"No, I didn't" the officer replied with a smile. Fernander said he left with his two snacks and drove home.
"Just as I got home, I pulled into my driveway" he said, explaining to the court that his yard is well-lit with two lights on the garage, the wall of the home, motion-sensor lights on the ground, and lights on the gate.
"I pulled up and looked through the rear view mirror as usual and I didn't see anything," he said. He turned off his vehicle, opened the door with one foot out the car, reached for the meals and got up to exit the vehicle.
"This is where I was confronted by two men, one armed with a handgun," the jury heard.
Fernander said the men were around his height ( 5ft 11in-6ft 1in), were wearing dark hoods over their heads with plaits protruding from both. The darker male's plaits were "corn rowed".
He said the man with the handgun was his complexion - fair - while the other was dark-skinned. The officer said the chrome weapon with a black handle appeared to be a .45 calibre handgun.
Fernander told the court he turned his back to the approaching men and leaned over in his seat with his armed stretched out, expecting to be robbed or shot, or both.
"Nothing was said to me" he continued, adding that after some seconds passed, he stood up to face the trespassers with arms still raised.
"I stared them directly in the eyes and they stepped back as I moved to the side and into my driveway," the jury heard. The men remained silent.
Fernander said that the dark-skinned man made three attempts to snatch the chain around his neck, finally saying: "Gimme this chain!"
When Fernander had backed into the closed garage door, he suddenly heard a 'bap bap' sound and believed two or three shots were fired.
"I realised I was hit to the hand and chest, my left chest area," he said, adding that dark skin man yanked the chain before both men fled to a car that he pursued them to while drawing his police handgun.
The men struggled to open the door but eventually succeeded in fleeing the area but not before two items were dropped. Fernander said he was unable to stop them with his firearm due to the injury to his right hand.
Shortly afterwards, neighbours came out to find out the source of the commotion and a police officer arrived on the scene.
Fernander said he then ran back to his home.
"You received medical attention that evening?" the prosecutor asked. "Yes," the officer said silently after a five-second pause to compose himself.
"What were your injuries?" the prosecutor asked.
Supt Fernander held up his braced right hand and appeared to struggle to say: "My hand... my left chest."
"I was hospitalised here at Doctor's Hospital and then airlifted to Jackson Memorial (Florida)," he said.
In cross-examination, Mr Munroe said to Supt Fernander: "If I were to suggest that the persons who accosted you had on cloths around their face, would that be correct?" the attorney asked. "That's foolishness. I don't accept that," Fernander replied.
"I suggest to you that at the time of his arrest," Munroe said pointing to Maurice, "his hair was corn rowed."
"I didn't know about his arrest," he said.
Supt Fernander disagreed with suggestions from both attorneys that their clients were not involved in the attack.
The trial resumes today.