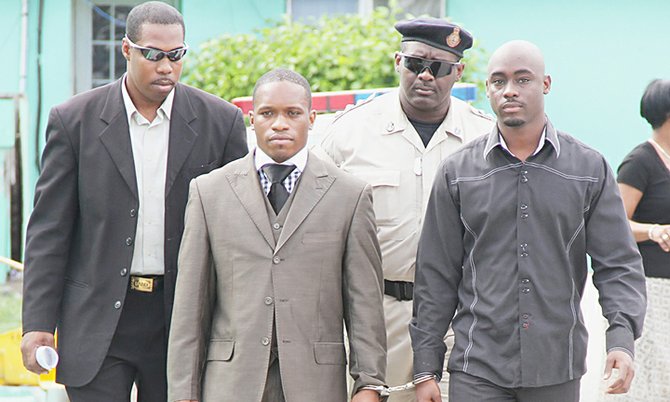 By LAMECH JOHNSON
Tribune Staff Reporter
ljohnson@tribunemedia.net
CHIEF Magistrate Joyanne Ferguson-Pratt granted bonds to two men accused of cruelty to a 15-year-old boy they are accused of trying to get drunk and indecently assaulted.
However, before she granted the respective $8,000 and $6,500 bonds to 27-year-old Arsenio Butler and 25-year-old Devin Sears, she made a statement to make "abundantly clear" that the court was not bound by statements of the prosecution or defence concerning a decision on bail.
"Notwithstanding the fact that the prosecution does not object to bail, the court is not bound by anything the defence says," the chief magistrate said, adding that "it is a determination I make."
She noted that this was within her powers granted by the Bail Act to defer bail for less than 24 hours while considering a number of factors before deciding whether bail should be granted.
"I cannot see how it could seem to be unfair or unjust," she said before addressing the two accused and adding: "I am minded to grant bail to both of you."
Both were granted bail with a suretor and ordered to report to the Nassau Street police station on Mondays on or before 6pm.
The court further ordered that the two men surrender their passports to the court and stipulated that they could make an application to the court if they wished to travel.
The chief magistrate concluded the bail hearing by informing the accused that they would appear before Magistrate Andrew Forbes in court no. 8 on February 17 when a trial date would be set.
Both accused of the People's Assembly Word Centre faced a charge of cruelty to children, alleged to have been committed between January 31 and February 1. It is claimed that they gave a teenage boy alcohol "in a manner likely to cause injury to his health."
Arsenio Butler, a pastor-elect, was separately charged with indecent assault. It is alleged that he put his hand down the teenager's trousers.
Both men pleaded not guilty to the charges.