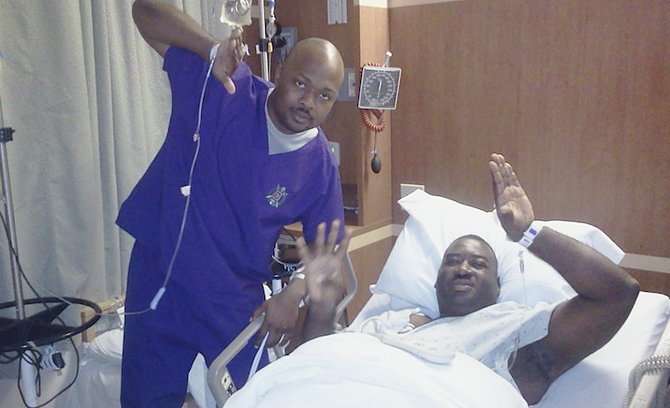 By JEFFARAH GIBSON
Tribune Features Writer
jgibson@tribunemedia.net
CURTIS NEWBOLD got a second chance at life when his Omega Psi Phi fraternity brother and dear friend Dr Delon Brennen donated a kidney.
Dr Brennen who is currently the chief medical officer at the Ministry of Health stepped up to the plate when Curtis was diagnosed with renal kidney failure in 2008. He was in dire need of a transplant.   
The decision to give a kidney was an easy one for Dr Brennen, who believes if roles were changed Curtis would have done the same. After all, they were more than just fraternity brothers and Dr Brennen knew he had exactly what Curtis needed.
Before being diagnosed with kidney failure in 2008, Curtis had been hospitalised and on dialysis. Friends and family members showed support throughout the entire ordeal and reassured Curtis that they were willing to assist in anyway they could.
Sometime later, Curtis travelled to the Cleveland Clinic where doctors concluded he would need a donor or spend the rest of his life on dialysis. Three days out of every week, for 4 hours Curtis underwent dialysis treatment. He was determined not to let the condition beat him.
"My mindset was I was not going to allow this to defeat me. The support I had from family and friends was what helped greatly along the way. At the end of the day they would not allow me to be around moping and pitiful," Curtis told Tribune Health.
While in Cleveland, Curtis' name was submitted in the databank for persons in need of an organ transplant.
"But being from a different country they tend to look towards their own first. But from the time I was told I needed a donor, the support I got from family and friends was overwhelming. My mother sent blood, my wife sent blood, my brother sent blood, Dr Brennen sent blood; everyone just stepped up," he said.
If Dr Brennen did not step forward when he did, Curtis may have been on a waiting list for almost five years, according to Dr Charles Modlin, kidney transplant specialist at the Cleveland Clinic where Curtis' surgery took place.
"When I and others close to him saw that he was deteriorating we basically said we needed to make sure that we got him better, however that was going to happen. We contacted Cleveland Clinic and found out what procedure we needed to go through," Dr Brennen said.
"Interestingly enough I was not even in the Bahamas at the time when I did most of the testing because I had moved to Atlanta for a time period basically for all of 2009 and 2010. I did most of testing up there and sent blood back and forth," he said.
Dr Brennen was tested thoroughly at the Cleveland Clinic to ensure that the removal of his kidney would not result in the deterioration of his health.
"They don't only test you to see if you are compatible but they need to make sure that if they take out one of your kidneys you are not going to crop out and die," he said.
The test results came back normal and both Dr Brennen and his friend Curtis were ready to get through the process.
"There wasn't really a whole lot of preparation for me given the fact that he was sick for as long as he was. We had the type of friendship where we would do anything for each other.
You have to sacrifice things in life for your family, for your friends and this was no different. This was one of those instances where, if I have it and I can give it to someone else to make their lives better I would. That does not necessarily mean my life is going to be worse if I give it to someone else. That was one of those times where I knew for sure that if it were me in that position he would have put himself in that position. It was a very easy decision to make truthfully, and that is not to belittle other people's decision because I know a lot of people have decisions that they need to make in order to consider donating," he said.
Dr Brennen said while there is a lot to consider when donating an organ there is a certain joy and satisfaction offering someone a chance at life again. However he said persons considering organ donation have to be prepared because that choice may not work out the way they may want it to.
"The pure consideration of what (donating an organ) is going to do for that person is a big motivator because to see that person's life change from what it had become to essentially getting back to normal. What you do have to prepare yourself for as well, is that there is no guarantee that anyone's organ is going to take and there will not be any complications or issues. So what you have to be prepared for is that you may give up your organ and it may get rejected. That organ is not of any use to the person and that would be a hard pill to swallow because that person did not get any better and you still went through all the headache of the process," he said.
However, none of that stopped Dr Brennen from trying because at the end of it all Curtis got the kidney he was in dire need of and is now his doing well.
"I am perfect today. Every three months I do a follow up in Florida and every six months in Cleveland. Life is great right now. It is a blessing knowing that I am pretty much doing the same things I have been doing before all of this happened. In all of this I want to say God is awesome and I want to thank my brother for giving me life," he said.