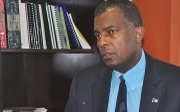 By AVA TURNQUEST
Tribune Staff Reporter
aturnquest@tribunemedia.net
IMMIGRATION officials have repatriated 410 migrants in less than two months, according to Immigration statistics revealed yesterday.
Minister of Foreign Affairs and Immigration Fred Mitchell said that illegal migration continues to be a serious problem, despite the success of efforts to crack down on hotspots throughout the country.
During his contribution in support of amendments to the Tariff and Excise Tax Acts yesterday, Mr Mitchell said his department and ministry's expenditure were well within budgetary limits.
He said: "You will see that the revenue has performed better than expected with some $22,992,645 forecasted and some $23,655,897 collected. The total forecasted revenue for the year is $46,233,000 and it looks like we will be able to make that target.
"The Foreign Affairs side which includes authentication of Notaries, issuance of Visas, Passport fees and the Rental for Autec up to 31st December shows a collection of $12,391,844 up to December of last year."
The Immigration Department repatriated 3,868 migrants in 2013, spending $1.2 million on air travel.
Illegal boat landings rose to 1,899 last year, over 2012's figure of 1,477, he said.
Mr Mitchell said: "On November 5th, 2013, a new team commenced Operation Clean up Bahamas, the focus of which is to target construction sites, road blocks in East and West,
"Food stores, Gas Stations shanty towns and inland areas in New Providence and the Family Islands to apprehend illegal immigrants who have contravened the Immigration laws."
"Since the introduction of this operation, a total of 676 migrants were arrested. This included 575 Haitians and 101 other nationals."
The operation also resulted in the collection of more than $200,000 in delinquent fees, he said.
Mr Mitchell added that the lack of interest in Bahamian labor is a vexing issue in the domestic banking sector.
Mr Mitchell pointed to an "undertone of many developers" to seek a work permit as a first recourse for employment, adding that he was concerned over recent developments.
Mr Mitchell said: "I am perplexed increasingly though by the undertone of many developers in this country that Bahamians simply cannot do the work and their first recourse is to seek a work permit. This psychology has to change."
He said: "This has become most vexing in the domestic banking sector. I have met with the chairman and managing director of Scotiabank and will calling upon the director of First Caribbean and the Royal Bank of Canada. I am concerned at recent developments that appear to be targeting employees following on stricter immigration enforcement. I want to disabuse the department of the notion that this is what is intended by these operations."