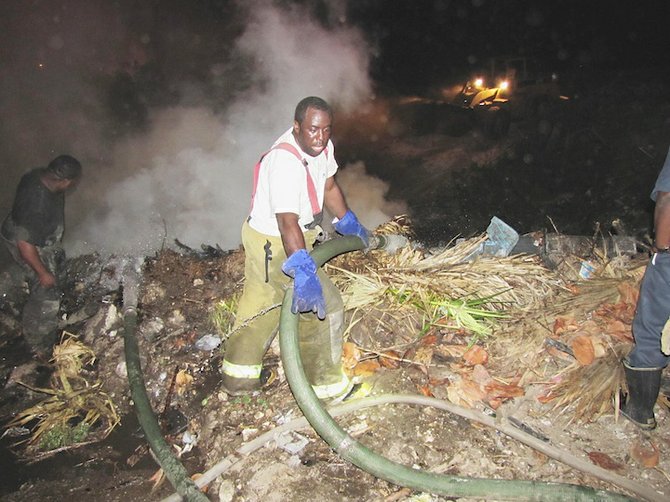 FOX Hill residents were smothered by smoke last night after a fire erupted at a makeshift garbage dump on Gray's Terrace, near Canon Pugh Estates.
Foreign Affairs Minister and Fox Hill MP Fred Mitchell said the site had reportedly been mined for quarry for the New Providence Road Improvement Project under the Ingraham Administration – leaving a vacant pit that had been filled by indiscriminate dumping.
According to neighbours at the scene last night, it appears that small children, who were playing at the dump, may have started the blaze which eventually got out of control.
Fire Services Chief Walter Evans told The Tribune at the scene that they had three fire trucks, along with three 5,000 gallon water trucks and one pay-loader working on the fire. By 8pm, the majority of the blaze had been extinguished with only residual flames being tackled at the extremities of the site.
Mr Mitchell and Environment Minister Ken Dorsett were at the scene of the fire last night to survey the work of fire fighters and assist where they could.
Mr Mitchell said he was grateful to the fire department and Mr Dorsett for all their help. He noted that once the fire was extinguished, the owners of the property must take proper possession of it and stop the indiscriminate dumping that has occurred.
Minister Dorsett echoed these sentiments adding that the resulting fire from this dump was causing considerable smoke inhalation problems for residents. He said fire fighters will have the blaze under control as soon as possible, and with the approach of daylight they will be able to have a better appreciation of what is on the site, and what was alight.