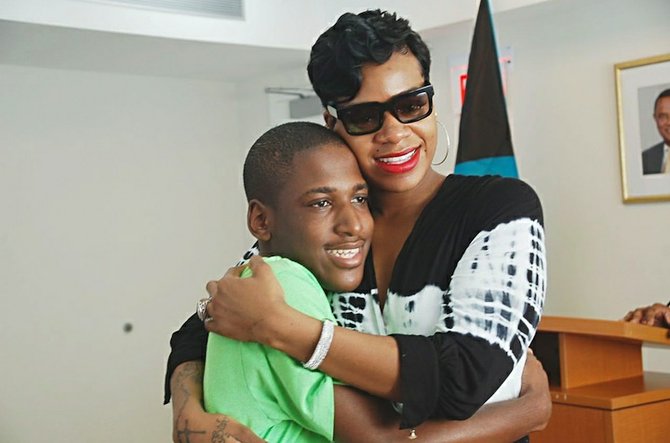 By JEFFARAH GIBSON
Tribune Features Writer
jgibson@tribunemedia.net
RASHAD Bowe, a young autistic man, can now check meeting American Idol star Fantasia Barrino off his bucket list.
In the VIP lounge of the Lynden Pindling International Airport yesterday, the 18-year-old brought the superstar to tears with an impromptu rendition of her hit single "I Believe".
Rashad attended the 'Celebration of Love' concert over the weekend that featured Fantasia alongside R&B singers Ginuwine and Johnny Gill in hopes of meeting the Grammy Award-winning singer. Unfortunately, Fantasia left the concert shortly after closing out the event with a high-energy performance.
However, relentless efforts by his father, Yuri Bowe, and mother, Raynell Bowe, to reach out to Fantasia before she left the country proved fruitful.
Randy Rolle, Consul General of the Bahamas in Atlanta, along with the promotion team Fresh Entertainment, granted the Bowe family's request and made arrangements for Rashad to meet Fantasia before she boarded her flight yesterday.
When Fantasia entered the VIP lounge with her son, Dallas Xavier, and another relative, she embraced Rashad and said: "I love you baby."
After the singer greeted his parents and young sister Rashea Bowe, Mrs Bowe pulled out her smartphone, played "I Believe", and Fantasia was serenaded by Rashad.
The 18-year-old can neither read or write and has a speech impediment, but he sang every word of the song.
The meeting became an emotional one for Fantasia. She cried and said she was impressed that Rashad sang every line of her song verbatim.
"Things like this is what let's me know why I do what I do," Fantasia told Tribune Health. "It's not for the money, it's not for the glitz and the glamour because all those things come and go. But its to bless people and to see him be blessed. This was a song I sang when I won (American Idol in 2004) and sometimes I need to hear that song myself just to encourage myself. To know that it blessed him, given the situation that he is in and that it makes him happy, it makes me happy, too," she said during the exclusive interview.
Fantasia was also told of Rashad's profound love for her as a musician and a person.
Mrs Bowe said: "He has loved her for so many years now. When he is in his room he has his music up to the loudest. Every song Fantasia sings he has it, so he will be in there just singing. The morning after the concert, I woke up with music by Fantasia playing in my ear. That was what woke me up on Sunday," she said.
Mr Bowe said it was important that he did all he could to ensure that his son met Fantasia. Now, he said he is grateful that his son's dream was realised.
"My son does not ask for much, so this was something that I really wanted to make happen for him," Mr Bowe said.
"It makes me happy to know that he got something that I know he appreciates."
Rashad was born prematurely and struggled with challenges related to autism all his life. He is currently enrolled in a programme for autistic students at Anatol Rodgers High School. He is set to graduate from that programme later this year.
His parents are uncertain where the road will lead once Rashad leaves school.
"We do not know yet. We will probably have find a caretaker.
They are sending him out of school at the age of 18, but he has nothing to do. What is he going to do? I think the government should have a programme in place for people like Rashad so that when they come out of school they can have work or something to do," Mrs Bowe said.
"They could allow them to work for several hours a day, that is a solution."