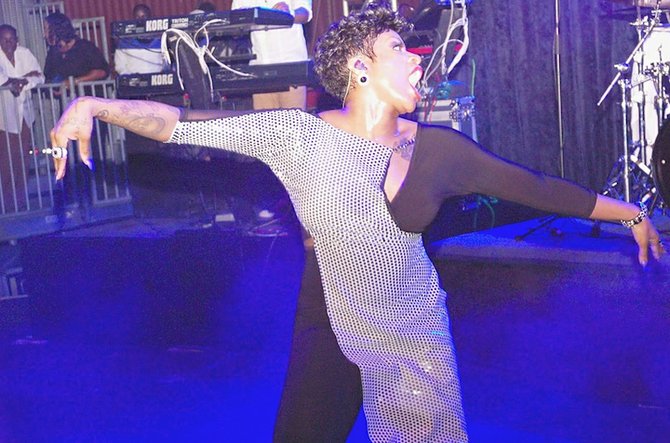 By JEFFARAH GIBSON
Tribune Features Writer
jgibson@tribunemedia.net
AFTER performing at the second 'Celebration of Love' concert in Nassau and meeting her biggest Bahamian fan, an autistic teenager, Grammy Award-winning singer Fantasia said her latest visit to the Bahamas has made a lasting impression.
The American Idol alum and Broadway star said she was "grateful" to be given an opportunity to perform in the Bahamas for the second time in her career.
Fantasia headlined the second 'Celebration of Love' concert last weekend which featured fellow artists Johnny Gill and Ginuwine.
The event, presented by Fresh Entertainment, also featured performances by Bahamian entertainers including FourEver 1, Julien Believe and Angelique Sabrina.
During an exclusive interview with Tribune Entertainment, before boarding her flight at the Lynden Pindling International Airport on Monday afternoon, Fantasia said she thoroughly enjoyed performing in the Bahamas.
"You know I love to perform, and to be able to hit the stage, to be able to take off my shoes and 'do me' was great. It just makes me feel good that people actually accept me and love me for me," she said.
While in the VIP Lounge at the airport, Fantasia also got much more than she bargained for when she met 18-year-old Rashad Bowe, a young autistic man who considers himself her biggest Bahamian fan.
Through a special arrangement by the Fresh Entertainment team and Randy Rolle, Consul General of the Bahamas in Atlanta, Rashad was able to meet Fantasia face-to-face. This came about after a failed attempt at a meeting on the night of the concert.
During the meeting, Fantasia was serenaded by Rashad, who brought tears to her eyes as he sang her hit song "I Believe".
"This was a trip I think I needed spiritually, meeting him (Rashad), and hitting the stage and hearing what other people have to say about my music and my story. To know that it blesses people makes me happy. I am not embarrassed about my story because I do not care what people have to say about me. I only worry about those who are blessed by me and my music and it makes me feel good," she told Tribune Entertainment.

After the meeting with Rashad, Fantasia posted a picture of them hugging on her Instagram page. She captioned the photo with, "Meeting Rashad today gave me more drive to keep pushing...harder and harder. Rashad you will always in my heart. Rashad has autism. Never in my presence did I hear him complain...Makes you think of how blessed we are!!! Goodbye Bahamas, see you soon."
Before leaving, Fantasia also joked that she might just stay in the Bahamas the next time.
"Oh girl, I do not want to leave! You gat a room? Next time I come to the Bahamas y'all gatta a get a room for me cause I am not leaving," she said.