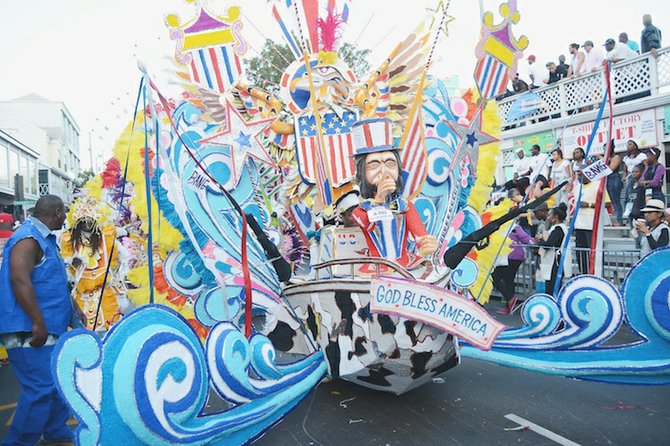 Photo Gallery
NEW YEAR'S JUNKANOO GALLERY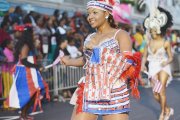 By KHRISNA VIRGIL
Tribune Staff Reporter
kvirgil@tribunemedia.net
WITH a vibrant America themed performance, the Valley Boys have captured the title as the winners of the 2014 New Year's Day Junkanoo Parade.
The A category group triumphed over the Shell Saxon Superstars who took second position with less than a three-point margin.
Douglas Hanna, chairman of the Parade Management Committee, announced the unofficial results from Arawak Cay last evening.
The Valley Boys, Hanna told scores of Junkanoo group supporters, finished with 89.21 points, the Saxons had one point deducted to end the parade with 86.46 points, Roots placed third with 81.66 points and One Family had 10 points deducted during scoring. They received 74.71 points.
Two groups, the Music Makers and the Prodigal Sons were disqualified because of an ineligibility rule, Hanna said.
Jamal Brice, an off the shoulder dancer, said the group received strict orders from its leader, who is experiencing health issues, to dominate the parade. And group members did just that.
"It's not a surprise," Brice said, "The Valley planned these two parades out and we executed. In the end and our leader is down now, he gave us strict orders. We went and carried them out and we became victorious. It's been a hard year for the Valley, but we came together and we pulled it off. The only thing we can say is it is all about running streaks now. "
Another Valley Boy member, Rhys Roberts, a lead beller said the win was satisfying.
"We went out there this morning and we left everything on Bay Street. Our first lap was one of the best first laps that we have had in a long time. We gave it everything. Our energy levels were through the ceiling. Our second lap was the icing on the cake. We knew that music was ours. We are the big boys."
In the B category, Colours clenched the title with 85.60 points. Taking second, third and fourth positions were the Fancy Dancers, Conquerors for Christ and Red Land Soldiers respectively.