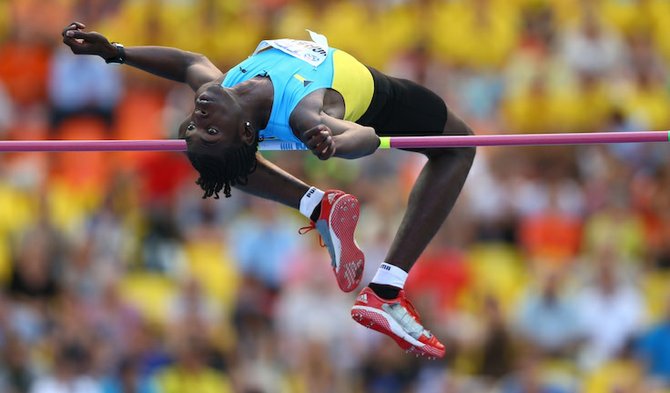 By BRENT STUBBS
Senior Sports Reporter
bstubbs@tribunemedia.net
IF Saturday's performance was any indication, high jumper Ryan Ingraham could be looking ahead to a banner year.
On the heels of his breakout year on the international scene in 2013 when he finished tied at 11th in the men's high jump final at the 2013 IAAF World Championships in Moscow, Russia, Ingraham opened the 2014 season on Saturday with an impressive leap of 7-feet, 4-inches from a shorter approach to the bar.
Ingraham, preparing for the IAAF World Indoor Championship in Sopot, Poland in March, highlighted the one-day Bahamas Association of Athletic Associations' Odd Distance Track and Field Meet at the original Thomas A Robinson Track and Field Stadium.
Also on the field, Drexel McIntosh came home from Jamaica to toss a qualifying throw in the under-20 boys' discus for the 43rd Carifta Games that will be held in Fort-de-France, Martinique, April 18-21.
On the track, half-miler turned quarter-miler Wesley Neymour pulled off an upset as he nipped Olympian Ramon Miller in the marque heat of the men's open 300 metres, while Miriam Byfield secured a double victory in the women's 600 and 1,000m.
The meet opened with BAAA president Mike Sands taking the time out to offer a moment of silence for the passing of the late junkanoo legend Winston 'Gus' Cooper, a former track athlete and administrator.
Athletes on the track run either shorter or longer races from the traditional events and on the field, their approach in the jumps are from a shorter distance and they are not allowed to do the usual twist and turns in the throwing events.
Ingraham, who just celebrated his 20th birthday on November 2, said he was more than pleased with his effort, even though he attempted 7-6 but missed out on the three tries.
"It's the best opener that I ever had," said Ingraham, now competing under the Puma sponsorship. "Me and my coach (James Rolle) have been working hard during the offseason. This is my first World Indoors and I'm really looking forward to it."
"If I can jump like this right now, everybody better watch out for me at the Worlds (indoors). I'm going to go there all out and make it to the final. If I make it to the final, I'm going to go all out. You never know, I could just come back with a medal."
Neymour, also coming off an appearance at the Moscow Worlds as a member of the men's 4 x 400 relay team, said he was thrilled to have gotten a victory under his belt in his season opener in the open men's 300m. Now he said he feels he's ready to go to "war."
"The field was pretty good, especially with Ramon Miller in there. It wasn't my best and I know he wasn't in tip top form yet, but it was good to pull this one off," said Neymour, who had to come from behind on the back stretch to hold off Miller at the tape.
Back after going down with an injury prior to running in the heats of the men's 400m in Moscow, Miller said it was good for him to test his fitness level especially considering he had taken some time off to rush for One Family during both the Boxing Day and New Year's junkanoo parades.
"I knew the guys were out there and the competition would be there, but I didn't know how much speed I had in my legs," Miller said. "My last day of training was Tuesday and I didn't do anything until today. But I have to give Wesley his props. I just hope he can continue his trend. But I'm back, healthy and ready to compete this year."
Although he's still in his junior campaign, 18-year-old Maycock tossed the discus 49.14m or 161-2, surpassing the Carifta qualifying mark of 47.35m (155-4).
"It was a big improvement from last year when I threw 47.9 (157-2) from the same standing position," said Maycock, who is attending Munroe College in Jamaica. "I am aiming to spin at least 60m (196-10) this year and improve on my fifth place finish last year."
Byfield, a member of the women's 4 x 400 relay team that competed at the Moscow Worlds, is aiming to make the Bahamas team heading to the World Indoors in Poland. She pulled off a double in the open women's 300m (39.47) and the 600m (time not available).
"Right now, I feel pretty comfortable about where I'm at," said the 25-year-old Byfield from Grand Bahama. "I still have a lot more work to improve, but I feel I'm on a better pace than I was last year, so I'm expecting some great things this year, starting with the World Indoors and the World Relays."
One of the names to listen for in the future is Glen Knowles. The St Augustine's College and Club Monica distance runner doubled up as well in the boys under-16 1000m (2:59.66) and the 600m (time not available).
"It feels good. I executed my race," said Knowles, a ninth-grader. "The competition was tough, but I enjoyed both of them. I just went out there and did what I had to do. I think it's going to be a good year for me."
In other field events, Star Tracker's Arien Strachan captured the under-27 girls high jump with 4-6, Celine Thompson, listed under coach Keith Parker, won the girls under-19 high jump with a leap of 5-3, Vinisa Beneby of Leap of Faith captured the women's open high jump with 5-6, Ken Mullings of Leap of Faith soared 6-6 to snatch the boys under-18 high jump, Blaize Darling of Fast forward Athletics won the boys under-15 long jump with 4.89m (16-0 1/2), Darius Major won the boys under-18 long jump with 5.76m (18-10 3/4), Kaiwan Culmer cleared 14.51m (47-7 1/4) in the open men's triple jump, Serena Brown of Throwers Inc. did 11.39m (37-4 1/2) in the open women's shot put, Kyle Higgs threw 12.85m (42-2) to win the men's open shot put and Denzel Pratt threw the open men's javelin 57.07m (187-3).
On the track, most of the events were timed finals with various heats and with the official results not completed, the performances from the athletes are not all available to publish today.