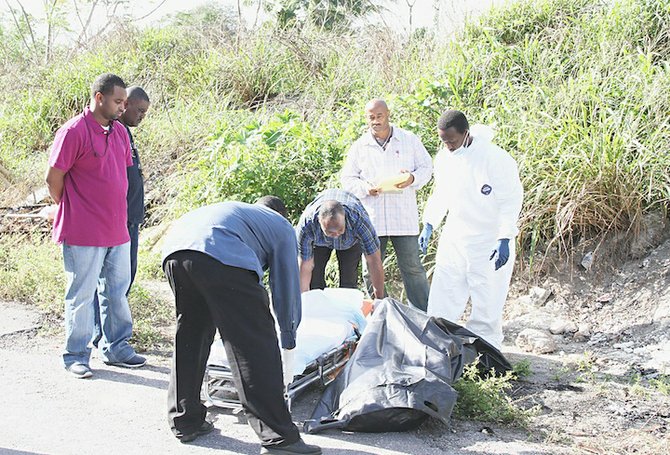 By LAMECH JOHNSON
Tribune Staff Reporter
ljohnson@tribunemedia.net
POLICE said they are very worried about the recent escalation in murders after the partially burnt body of a man was discovered in southern New Providence.
The body – if designated a murder will already be the country's fourth for the new year and 11th within two weeks – was discovered in bushes off Cowpen Road yesterday morning. A stabbing case, which the police are still investigating, has not as yet been classified. However, it is the fifth killing for the five-day-old New Year.
"We are extremely concerned about the number of homicides that we have been seeing over the last couple of days," Assistant Commissioner of Police Anthony Ferguson said.
"We urge members of the public to be extremely co-operative when they have information, to let us know about the conflicts that may be arising so there could be early intervention."
The majority of recent murders have been shooting incidents, most notably the drive-by attack on Freedom Park in Fox Hill, where 11 were shot and four killed on December 28.
This came only 10 days after an attack on a Bain Town "Peace Party" in which eight people were shot, one of them fatally.
Another seven people have been shot and another four killed since the Fox Hill incident.
While police have yet to officially classify yesterday's burned body, Tribune sources indicate it was indeed a murder and is being investigated as such.
Mr Ferguson who said police received reports of the discovery around 7:30am yesterday.
"The brief information we are working with at the moment, is that sometime shortly after 7:30 this morning, the police got a report that the body of a partially burnt male was seen through a road just off Cowpen Road".
"Uniform officers along with detectives responded and upon arrival, as you can see the crime scene tape to my south, discovered the body of a male,partially burned just on the side of the road."
The Tribune was informed that the man's face was the only part of his body not burned, and so he can still be identified.
The first murder of 2014 took place at around 2am last Tuesday on New Year's Day, January 1. Police say the victim was sitting on a vehicle in Hospital Lane, when a man armed with a handgun approached him and shot him several times before fleeing on foot.
The victim was taken to hospital by a private vehicle where he died of his injuries.
The next day — January 2— around 7pm, according to reports, two men were sitting in front of an apartment complex on Buttonwood Avenue, Pinewood Gardens, when the occupants of a vehicle pulled up and fired several shots at them before speeding off.
One of the men received multiple gunshot wounds and was pronounced dead at the scene. The other man was taken to hospital where he is detained in stable condition for a gunshot wound in his leg.
Minutes later a man was gunned down by the occupants of a gold coloured car while at Taylor Street, off East Street, shortly after 8pm.
These shooting incidents come just days after Prime Minister Perry Christie revealed the government's new plan to tackle crime.
Some of the initiatives include, re-introducing the 12-hour shift for police, creating a gang unit and passing laws to bind the hands of judges to prevent them from allowing persons accused of serious crimes to be granted bail.
The unveiling of the crime plan was sparked by escalating crime and the gratuitous violence visited upon the community of Freedom Park, Fox Hill when three men and a woman, sitting in the park on the evening of December 27, were killed and four others were seriously injured in a drive-by shooting. It is believed that the random shootings might have been sparked by a shooting the night before of a 29-year-old man sitting on an upturned bucket at the side of Dorsett Street, Fox Hill, around midnight. It was reported that shots came from a silver coloured four-door Honda with several occupants as it drove by. The shooting took place at about midnight.