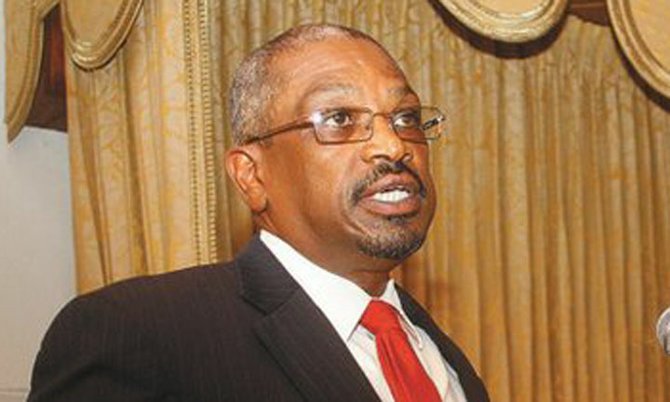 AT the dawn of 2014 and with more than a year and a half of governance under their belt, the government has failed to live up to several election promises, FNM leader Dr Hubert Minnis said.
Delivering his New Years address to the nation, Dr Minnis said as Bahamians look towards 2014 with hope, they cannot avoid casting their minds back to the "serious and debilitating slew of problems, errors, missteps and failings" made by those charged with leading the nation.
"Unfortunately, for every Bahamian 2013 has been a year marked by far too many failures on the part of the nation's leadership," he said.
"There was the total failure within the first year to deliver on the promise to create 10,000 new jobs; and worse the unemployment rate has increased and now exceeds 16.2 per cent nationally.
"There was an abysmal failure within the first year to deliver on the promise to craft an effective Mortgage Relief Plan; helping exactly nobody, and leaving thousands of Bahamians facing foreclosure and expulsion from their homes."
Dr Minnis said the government also failed to invigorate and revive the sluggish domestic economy within the first year, and inward foreign investment has suffered, leaving the United States Dollar Reserves in the Central Bank at an unacceptably low level.
"The Gambling Referendum was an expensive and resounding failure for which no true or full accounting of its costs has yet been given to Bahamian taxpayers," he said.
"Despite publicly committing to honour the results of that referendum, there has been a paralysed failure on the part of the Government and law enforcement agencies to enforce the law.
"There has been a signal and abject failure to deliver on the promise to 'double the investment in education' and much needed educational reform initiatives appear to have been placed on the proverbial back-burner.
"Most distressing among the significant failures in this remembrance of the past year, has been the now certain failure of the government's highly touted Urban Renewal 2.0 programme in bringing any reduction in the high rates of violent criminal activity and the record setting numbers of murders and other unexplained or as yet unclassified homicides, which now exceed the grievous total of the previous year 2012."