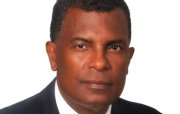 By KHRISNA VIRGIL
Tribune Staff Reporter
kvirgil@tribunemedia.net
AS details continue to emerge over an alleged human smuggling ring in Grand Bahama, Foreign Affairs Minister Fred Mitchell said the government is waging a war on the illegal activity.
His words follow pleas from relatives and family members for assistance in finding two Jamaican men, 35-year-old Dwayne Campbell, Andre Laroi Bignal, 34, and one Peruvian woman, Nelly Alva, 47.
They all allegedly went missing on December 18 along with at least three other Jamaican nationals and a man from New Zealand seeking unauthorised entry by boat into the US from Grand Bahama. The journey is said to have begun at around 8pm and involved a woman who is said to have collected thousands of dollars from each person in the group for the trip.
These latest details came to The Tribune from Danielle Rose, a relative of Andre, who said he called family members on the day of the alleged journey.
She said: "He came to the Bahamas to try to make it to the U.S by boat illegally. We, the family, have little info because he did not inform us of his plans, because he knew we would have talked him out of it.
"We, the family, are struggling. His mother is losing weight rapidly. A lot of us are trying to stay positive. I don't want to think negative. He is his mother's only child and has two kids of his own. We are just hoping for the best.
"I have been talking to two detectives in Grand Bahama. About four or five days ago an Officer Curtis instructed me to send authorities there photographs of the guys because there is a possibility that they are detained in a Freeport jail.
"We know without a shadow of a doubt that they would have called us by now if they made it."
Attempts were made to contact Officer Curtis but they were unsuccessful.
A sister of Nelly, Melba Alva, raised several questions by email about the priority of the situation for government officials in the Bahamas.
She said: "Nelly Alva has been missing for 19 days and your country, your government and your police department do nothing. "(Does) the life and liberty of a person not have a price in your country? Human trafficking, slavery, (and) trafficking drugs (exists) and this government is indifferent. Everyone knows and sees the indifference of the Bahamas and nobody goes to jail for these crimes. Nelly Alva is still missing. This is terribly inhumane."
The Tribune asked Mr Mitchell whether Department of Immigration officials are investigating an alleged human smuggling ring in Grand Bahama and if the government is doing anything to crack down on instances such as these.
Mr Mitchell said: "You should be aware that the Department of Immigration is waging a continuous war on that front."