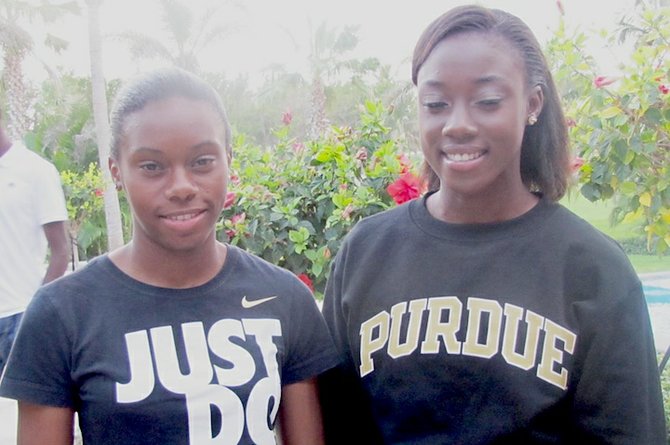 By BRENT STUBBS
Senior Sports Reporter
bstubbs@tribunemedia.net
THEY left for Purdue University last year as close friends and rivals off and on the track. Now as room-mates and team-mates, hurdler Devynne Charlton and sprinter Carmiesha Cox are hoping to strike terror in their opponents as they compete for the Boilermakers women's athletic team.
The respective St Augustine's College Big Red Machine and Aquinas College Aces graduates began their freshman year at Purdue University over the weekend as they competed in the 60 metres hurdles and the 60m at the 2014 Gene Edmonds Cup at the Lambert Fieldhouse at Purdue University in West Lafayette, Indiana.
In the hurdles, Charlton easily topped the field in a time of 8.55 seconds with her nearest rival, Alexis Murray, a freshman as well at Louisville, taking second in 8.80.
In the 60m, Charlton had to settle for second in 7.73 behind her sophomore team-mate, Twyla Winfrey, who did 7.58. Cox was entered in the field, but opted not to compete as she nurses a slight hamstring injury.
Cox had ran the fastest qualifying time of 7.61 to win her heat, just ahead of Charlton, who did 7.69 to take her heat. Winfrey was second behind Cox in 7.64.
For both 19-year-old Charlton and Cox, it was a good start to their promising careers with the Boilermakers, coached by Bahamians Orlando 'Lonnie' Greene (head coach) and Norbert Elliott (assistant coach responsible for men's sprints/hurdles/relays).
"I felt pretty good about my performance," Charlton said. "I felt I could have done a whole lot better in the 60 metres dash because I actually ran slower in the final than I did in the preliminaries. But I was very pleased with my hurdles time."
In the flat race, Charlton said she tried to accelerate down the track, but she just couldn't do it.
For Cox, after feeling a twitch in her hamstring, she decided not to compete in the final.
"This was my indoor opener, so after the preliminaries, I didn't want to cause any further injury so I didn't run in the final," she said. "It's getting better, but I'm just glad that I have a time to work with for the rest of the season. So I was pretty pleased."
So far, Charlton said she has been quite pleased with her transition from the Bahamas to the United States and from high school to college.
"Being an athlete, having the coaches and all of the facilities that have been available to us, it's been quite easy," Charlton said. "So it wasn't as stressful or as big as a change as I had expected it to be."
Cox concurred, but took it a bit further.
"Coming to college has been a big transition and I'm still trying to get used to the weather and everything, but I'm loving it," she said. "It's just a great place to be. The people, the coaches and the friendly environment makes it feel like a family at home."
This weekend, Charlton will be back in action at the Purdue-Indiana dual meet in in West Lafayette, Indiana, but Cox is not certain if she will suit up or take a little extra time to properly heal the hamstring injury.
"I'm just trying to get a field for indoors," Charlton said. "I'd like to make Big 10 final (set for February 28 to March 1 in Geneva, Ohio), score some points and hopefully make it to the NCAA National Championships (scheduled for March 14-15 in Albuquerque, New Mexico)."
Although she's just going through a minor strain, Cox said she has to ease back on the hard pounding and in short order, she's confident that she will continue to get on the track to start running again.
"This is my first time running indoors, but I really would like to drop that 7.6 that I just ran to about 7.4," Cox said. "I'm not sure yet how the 200 times for indoors go, but I just want to be able to lower it to as low as I possibly can."
With Cox as her room-mate, Charlton said she has been able to adopt to her new environment.
"I think the biggest adjustment has been the weather," she said. "Coming from 80 degrees when I was home for the Christmas break to negative 20 at one point when I got back with about two feet of snow on the ground, it was a tough adjustment for me to make."
Charlton, who is majoring in biology, said she's looking forward to coming back home and competing when the outdoor season gets underway.
Cox, on the other hand, is still undecided on her major, which she will now have to wait for her sophomore year to make a decision.
But, in the meantime, the duo are hoping to continue to excel for Purdue University before they come back home and travel with the national team to complete their final Carifta experience in Martinique in April.
Last year, Charlton won the gold in the under-20 girls 100m, followed by Cox with the silver. The two also teamed up with Shaunae Miller to secure the gold in the 4 x 100 metre relays at the games at the new Thomas A Robinson National Stadium.
Cox was also the bronze medallist in the 200 that was won by Miller, while Charlton duplicated the feat in the 100 hurdles.