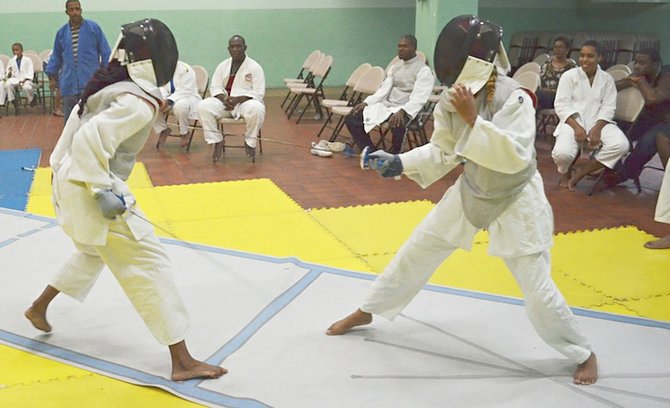 By D'ARCY RAHMING
Treasurer, Bahamas Olympic Committee
Chairman, National Sport Academy Planning Committee
DarcyRahmingSr@gmail.com
WE'RE at war. We are battling against crime, poverty, and the many other social ills we are experiencing. Wars are always fought by kids and so it should be with this one. We're blessed because the greatest generation of Bahamians that have ever existed are found in the youth of today. So it's a war we can win. When I state my admiration for the youth of the nation many people are shocked. They believe that we have lost a generation.
Many persons are of the opinion that the only thing we need are a few good hangings.
This frustration is understandable. Important projects like the McCabe project, where reporters went into inner city communities and interviewed community builders and those impacted by violence, really give us insight into why a rational person could lose hope.
The McCabe project gave a face to many of these issues we are facing while identifying.
However, we need only look at the high violent crime rate, the dismal exam results at every level to understand why many are further hardening their position against the youth.
And if we want to be honest it is particularly in the inner city areas. By not seeing value in this specific population we have empowered criminals to be the ones that are imposing a mentality and controlling and defining the measures of success.
What we have identified is an aggressive form of societal cancer. And it's an aggressive form that will require many different solutions; more than just a good hanging can solve.
And just as the body must be strong enough to fight cancer, the same is true for our communities. The very same children and young adults that many have written off are the ones that will ultimately save these communities. But how can this happen when prosperity is widely tied to education and training, yet we seem to be failing miserably? Or are we failing? Are there any areas that these children are excelling in, that they are naturally.
In a report on the education system from the 1950s, H Houghton Esquire writes of "native qualities of courage, enterprise and physical skill" that were born from our history and led to earlier periods of prosperity. This report could have been written today. Although he bemoans the lack of transferable skills to formal education. We actually can use these same qualities he identified through a disciplined national sports product to bring about a sustainable prosperity. Expanding the concept of education to include physical education, so it is treated as importantly as mathematics.
There are many related jobs in the sports field that will make the skills transferable to education and to economic prosperity. Courage, enterprise and physical skill that Houghton found irrelevant for formal education are the foundation of excellence for physical education (PE). I'll bet the national average for PE, if such a thing existed would way exceed that of the United States, Europe and Asia. Why then are we not using our gifts to our advantage? Truth is that we are biased against physical education and sports. As a society we still believe that it is not really education, but rather recreation.
It does not mean that we should ignore traditional education, just elevate physical education to its rightful place, because the developed world has understood that studying to be a lawyer has just as much future as pursuing a career in sports. Sun, sports, sand and sea is indeed the formula that can take us forward and turn each kid into an Ambassador instead of a potential social ill.
Of course at the time Houghton Esquire wrote his report, sports had not developed into a multi-billion dollar industry. There was no way of monetising sports, so developing athletic prowess remained largely a personal interest or at best a social tool for developing teamwork. There was no NBA, or NFL or Olympic Games that heralded in a generation of athletes and sport related jobs. Let me just list a few of them: broadcasters, translators, food and beverage controllers, security, marketers, hoteliers, transportation experts, sports doctors, personal trainers, artists, choreographers, electricians, stage hands, etc.
Oh did I mention athletes, coaches, team managers, talent scouts, agents, and sport.
In 2010 an international incident happened that was a game changer for me in recognising the potential of our Youth. I attended the Youth Olympic Games in Singapore. In the middle of the Village where athletes stayed was a cultural village. High schools around Singapore adopted a country and researched it and put on a booth. I was pleasantly surprised to see the Bahamas represented and, of course, they had included a bit on
So the Bahamian athletes, all ages 16 -19, gave an impromptu Junkanoo demonstration in the middle of the Village. I saw so many people dancing and enjoying our culture. It was one of my favourite moments. That is the power of our young, to be social ambassadors.
People love us, we are friendly, we are small and we are immensely talented. At those same games Bahamians delivered really awesome performance which resulted in four medals. The bottom line is that we need to combine sport and culture all the more.
We should place additional emphasis on those international sporting events, wherein we are required to compete against other talents rather than just a clock or a tape measure.
Olympic sports like Fencing, Judo, and Wrestling require good competition and highly specialised training. The younger you begin competing in these sports, the better.
For example take the sport of Judo. It takes ten years to develop a Judo champion and over 20 hours a week of specialised training from about the age of 11. That's 10,000 hours of training. It's no different for those that want to excel in music or other disciplines.
This means that people have to interact with you. In countries like the USA with professional baseball, football and basketball, many athletes at all ages and levels participate. However, this is to our advantage as it is very difficult to find really good competition in other more complex sports. So Americans must travel to Latin America, Europe and Asia to find good fencers and Judo players and other less traditional sports. Singapore recognised this and are projected to add 1.6 billion dollars to their GDP and 20,000 jobs from their sport product. In 2011, they hosted over 700 events, including international competitions and sport training camps. All would bring in very high quality tourists. I spoke recently to a local hotelier who warned me against a sport tourist product because it consists of a bunch of athletes crammed into a room not spending any money.
I think his opinion is shared by many in that sports is considered either local athletics competitions or the Olympic Games. He might be unaware that there are thousands of competitions every year for junior athletes in order to qualify for the Olympic Games. In most complex sports it is a 7-year competition cycle from developmental athletes to elite level. He has probably not seen teams from 80 countries descend on the high end Doral Hotel in Florida which cost $120 per athlete per day for a week, or the $300 per person a night we spent in Brazil at the recent World Championships.
Sports is far more than recreation. I am aware that there are a number of initiatives that focus on keeping persons busy after school. They include culture as well as arts, music and sports. These recreational initiatives ought to be applauded, expanded, and focused.
In fact, the problem is that these classes are viewed as extra curricular and should be included in the curriculum. Participation should be mandatory and more key sports added like fencing, judo, wrestling and taekwondo should be added. Mastery of these sports requires athletes to actually travel rather than just being timed against a clock. We have many local private coaches that can develop this expertise.
Programmes need to be geared toward local events. Meaning persons who may be involved in band, cuisine or dance should be preparing for sports and cultural festivals, which could occur in villages like Fox Hill or Carmichael on a planned and regular basis. There were two near perfect examples of this that occurred last December. One at Xavier's school where a food fair and steak out was held, while a multi-sport event involving fencing, wrestling and Judo occurred. This event involved students from the College of the Bahamas, and various private elementary schools and clubs.
The other was Flamingo Gardens in Carmichael where a judo tournament was held on the tennis courts while the Yuletide festival was going on. Over 200 youth from the nearby government schools are involved in an after school programme and they demonstrated their skills. Parents lined the fence to watch their loved ones compete. Afterwards the community listened to the band and enjoyed various foods. This event was so impressive that it was featured on the International Judo Federation website. Over 200 countries practice Judo and thousands of visitors saw the Bahamas in a very positive light.
These same kids will compete in the Bahamas Combat Sports Open. If five more similarly sized communities participate, it will make it one of the largest international tournaments in the region. They will be the main draw for hundreds of visitors to our shores. Events like this need to be duplicated across the Islands. Any young person involved in these programmes will learn transferable skills of teamwork and performance that will last them a lifetime.
I am confident that the proper authorities will deal with the perpetrators of various crimes, but we have to give the youth some options besides hanging them. A properly developed sports culture is part of the solution. Let's turn our perceived weaknesses into strengths.
Let us turn every child into an Ambassador of sport for their village and country. These children and young adults are in effect "the stone that the builder refused." In 2014 some extremely bold moves will be made by those responsible for delivering this sporting system to make them the head cornerstone. I hope that we can count on your support.