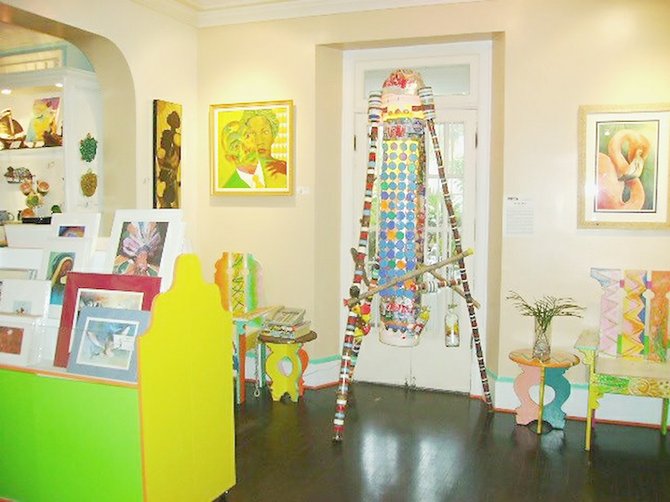 By JEFFARAH GIBSON
Tribune Features Writer
jgibson@tribunemedia.net
DOONGALIK Studios and Liquid Courage Gallery will present intriguing and experimental art shows throughout the year. The two local art galleries also promise to be a place where Bahamian art continues to flourish.
While most of the art shows have not been finalised as yet, Doongalik Art Gallery & Studios will start their season off with a one man show by Bahamian artist Malcolm Rae next month. This will be the first time for Malcolm to exhibit in a one man show outside of his own gallery, Stingrae Studios.
Doongalik Studios will also participate in the Transforming Spaces art tour set for the month of April, along with other galleries. The theme this year is "Water".
Other art shows will be announced as they come up, said Pam Burnside, owner.
This year, Bahamian artist Kim Smith is also opening a framing centre on Doongalik's premises that will carry all original prints.

"We are going to be concentrating on all original art work. We will be selling just original artworks and that will be paintings, ceramics and wood works," Ms Burnside told Tribune Arts.
As it is the gallery's mission, Ms Burnside said throughout the year they will continue to promote Bahamian art and give emerging artists a platform.
"It is important for us to do this because if Baha Mar is opening and their theme is to promote Bahamian art, I think that showing the Bahamian art is going to be pivotal for the various galleries. I have had several people write me from abroad asking if they can show their work, but I continue to write them back and tell them we only promote local artists. The thrust is concentrating on the fabulous art work that we have and artists we have in the country and promoting them to the world.
"This year we are going to be speaking at the Bahamas Business Outlook and that is really going to be concentrating on Bahamian straw work and Junkanoo. But that is also going to enhance the fact that we also have a lot of Bahamian artwork to promote to the world. We are going to have a more global outlook, promoting the art world wide as opposed to just locally," she said.
Art enthusiasts can also expect Doongalik to continue with book launches as the year goes by. The gallery currently has an entire section dedicated to Bahamian books.
"You would normally have one shelf of Bahamian books but now we have so many Bahamian artists who are writing and I think that is so very important and that is something we will continue to promote," she said.
Orchid Burnside and Sonia Farmer will also begin a series of conversations for people to come out and discuss pertinent issues that are facing the country.
"We also hope to have the Jackson Burnside library up and operational this year and that is probably going to be mid year or so. Our gallery hours are going to be down to two or three days a week as opposed to being open every day. So that is what we plan for this year," she said.

Liquid Courage kicks off New Year lineup
Liquid Courage, a fairly new gallery, opened in 2012, started its lineup for 2014 last week with a solo exhibition by Bahamian/American artist April Bey. Bey, who lives and works in LA, has travelled to Nassau to work on a site-specific installation for the gallery opening last week.
Following this exhibition, Belgian artist Jan Kempenaers will present his photographic series 'Spomenik'.
At the beginning of April, Holly Bynoe, artist, curator and founding editor-in-chief of ARC magazine, is curating the space for the annual Transforming Spaces, which will include artists from the Bahamas and the diaspora.
As the year continues, Tessa Whitehead, the gallery's curator, said there will be much more exciting arts shows and events.
"You can expect to see experimental, challenging and relevant contemporary artwork exhibiting at Liquid Courage Gallery, this year. With two exhibiting spaces, the white-cube above the Liquid Courage store and the large warehouse space, the gallery provides a quiet and uncomplicated space for artists to focus on curating their work or to have their work curated. This is ultimately made possible by Liquid Courage Ltd, which provides the space and supports all of the gallery's openings. As a result, the space is neutral; we do not focus on selling artwork, and when you remove that from the mix, other ideas grow in its place," she said.