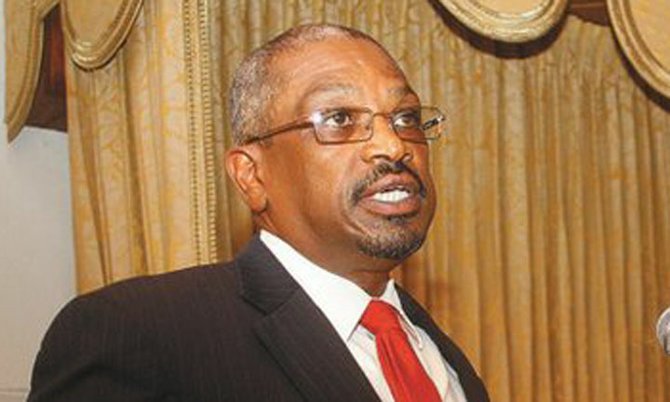 By KHRISNA VIRGIL
Tribune Staff Reporter
kvirgil@tribunemedia.net
FNM Leader Dr Hubert Minnis claims that the government is attempting to block the opposition's efforts to table a bill drafted by the party, that if passed would give the Court of Appeal the sole power of sentencing murderers to hang.
The allegations came during a press conference yesterday following the morning session of Parliament. The meeting came to an abrupt end after only a few minutes because Leader of government business Dr Bernard Nottage said the Christie administration had pressing matters to handle.
When asked later by The Tribune to reveal which matters warranted a House suspension until January 29, Dr Nottage said he was not at liberty to say, but that a public announcement would come in days. He added that Dr Minnis did not inform him of the intent to bring the bill forward. He said Dr Minnis' actions could only be described as a "stunt" because his attempts were in clear breech of House rules.
Before Dr Nottage's request was granted, Dr Minnis stood and asked consent to go back on the agenda, allowing him to table a Bill on capital punishment.
He was not allowed to do so by House Speaker Dr Kendal Major who explained that it was against the rules to fulfil the request as Dr Minnis did not direct the matter to Dr Nottage.
"Mr Speaker I am now giving notice," Dr Minnis said, "to the leader of the House that on the next sitting that he give consent to go back to  the first reading so that I could table this Bill on capital punishment and hanging."
But the Speaker then interjected saying that unless the House gave leave by a vote it would not be allowed. He reminded Dr Minnis that on the agenda, under item 24 for notices of future meetings he could be granted approval if the meeting progressed to that point.
As he spoke to reporters, Dr Minnis said he had hoped that the Bill would outlaw the Privy Council. 
He said: "We are very disappointed that they suspended. We believe that they don't have an agenda. We would like to know what was so important for them to go into Cabinet other than crime or unemployment. We are hoping that they will announce that they have the 10,000 jobs or that they finally have the solution to crime.
"This morning I spoke about it (and) I got the impression that the government was continuously trying to block us from trying to bring this Bill forward.
"Therefore I have all intentions to present the Bill at the next House sitting so that we can have adequate debate on capital punishment. We will know exactly where the government and each individual stands (through) a robust debate on crime. "
Dr Nottage told reporters that he could not say whether the Bill would be debated because he did not know what it entailed or whether it was appropriate to do so.
Dr Minnis has admitted that he did not seek permission from Dr Nottage to table the Bill yesterday.