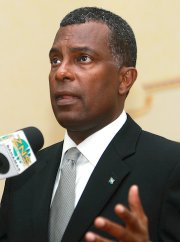 By AVA TURNQUEST
Tribune Staff Reporter
aturnquest@tribunemedia.net
RANDOM immigration road checks have sent droves of people to the Department of Immigration this week, Minister of Foreign Affairs and Immigration Fred Mitchell said yesterday.
Mr Mitchell said there was no formal complaint before the department following the detention of a UBS (Bahamas) executive last week.
He added: "What I do know is that on Monday morning, the Department of Immigration was swamped with people. All over the steps, outside the door, it was a madhouse so many people."
"That's the only point. The people who are supposed to be in the Bahamas should be documented to be in the Bahamas and not undocumented, and there is a way to get documents, and if you don't have the documents it means you don't have the right to be here and the law follows its course."
Random road checks in the past two months resulted in almost 200 people being arrested and taken to the Detention Centre, according to officials.
The Department of Immigration has urged members of the public to bear with them as they attempt to control the country's illegal immigration problem.
On January 14, Emmanuel Fiaux, Executive Director of UBS (Bahamas) Ltd, East Bay Street, was stopped by officials and asked to produce proof of legal residency during a road block.
According to a statement released by UBS, Mr Fiaux produced an electronic copy of his documentation for officials at the scene; however, the electronic version was 'disregarded,' said UBS.
The Electronic Communications and Transactions Act provides legal recognition of electronic writing, contracts, signatures and original information in electronic form in relation to commercial and other transactions and to provide for the facilitation of electronic transactions and related matters. 
When asked whether or not electronic forms of identification could be used, Mr Mitchell said: "I'm not an immigration officer, I deal with policy issues. That's for immigration officers to make a judgement as to what they accept as evidence and not evidence, that's not an issue for me."
Attempts to clarify procedure with the Department of Immigration were unsuccessful yesterday.