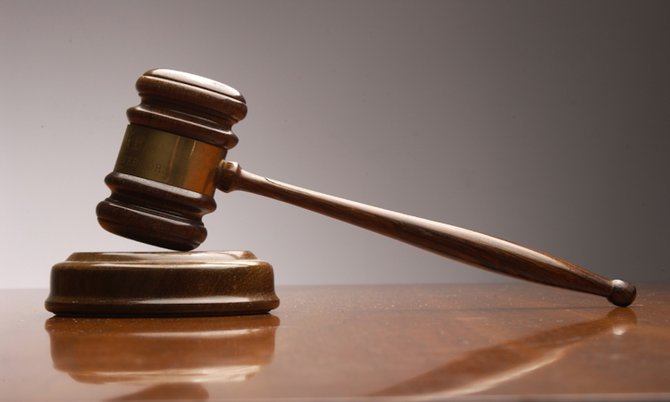 By LAMECH JOHNSON
Tribune Staff Reporter
ljohnson@tribunemedia.net
THE last witness in the Crown's "grossly indecent" picture posting case against Rodney Moncur denied a suggestion yesterday that he wanted Moncur to be jailed.
Inspector Mark Barrett came to give evidence in magistrates' court no.2 of his involvement in the case from his arrest of Moncur to an interview in police custody concerning pictures posted on Facebook.
However, in cross-examination where in some instances the officer was unable to recall details of their interactions, Moncur asked the officer: "Why you want to send me to jail?"
The officer said: "I don't want to send you to jail."
Moncur said: "Then why you can't recall," before suggesting to the officer that "you are a liar."
Mr Moncur, who was arraigned on April 4, 2013, faces a single charge of committing a grossly indecent act. It is claimed that between March 1 and March 29, he "intentionally and unlawfully" published a photograph of Jamie Smith, who is dead.
Mr Moncur opted to be tried by a jury in the Supreme Court rather than by a magistrate, and was granted $7,500 bail, which he posted the following day.
He was later told the Attorney General's Office decided to have a preliminary inquiry in the magistrate's court.
Corporal Olsen, who sat in on Moncur's March 30 record of the interview with Inspector Mark Barrett, testified on what he witnessed during the 8.35am interview when Moncur was questioned under caution.
The High-Tech Crime Unit officer claimed that Moncur admitted to posting indecent images on Facebook, but denied breaking into the Rand morgue at Princess Margaret Hospital.
He added that Moncur declined to give a written statement and did not wish to read over the record of the interview.
Moncur asked the officer if an alibi was offered during the interview, to which the officer said: "You said something like you would not divulge your sources."
Moncur then suggested to the witness that he told both officers to contact Health Minister Dr Perry Gomez for his alibi.
Officer Noel agreed with the suggestion, but when asked if he had verified the alibi, the officer said: "It's not my duty."
He also admitted that his report did not reflect that an alibi had been offered.
Moncur suggested to the officer that he'd threatened him during his interview.
"Didn't you threaten me that if I did not move the things off of Facebook, you could hold me in custody for an extended period of time?" the accused asked.
"Did I say that? Never," the investigator said.
Moncur said: "Wouldn't you agree that after I was released, the photographs on my Facebook page were no longer there?"
"It never came down," Barrett said.
"I put it to you, you and my lawyer came up with the means to remove it," Moncur said.
"That was never done" the investigator said.
Moncur suggested to Barrett that he and a team of officers re-arrested him for the pictures reappearing on Facebook even though "they were not on my page that day."
"Yes they were" the investigator replied. Moncur suggested he was being dishonest to the court.
The accused further suggested that he and his attorney Koed Smith had offered a solution of getting the photos of Moncur's Facebook page in exchange for his release.
Moncur said he objected to it and Barrett claimed he didn't recall that line of conversation.
"I never had any conversation with Mr Koed Smith, nor did I conspire with Mr Smith to have pictures hosted by Moncur removed."
Barrett said he could recall that during the interview he asked Moncur a number of questions as it related to "grossly indecent" images posted on Facebook.
"Didn't you accuse me of terrorism?" Moncur asked.
Barrett's lack of response to the question prompted the magistrate to ask the same.
"I may have said inciting," Barrett said, adding that he didn't remember saying terrorism.
Moncur asked the investigator if he inquired with the relative authorities whether he had broken into the morgue. Barrett claimed there was no need to do so.
"You know where I got the photographs from. You know I was in charge of the funeral," Moncur said.
"I did not," the investigator said.
Moncur suggested to the officer that he went against standard practice by arresting him without first having obtained all of the facts which included the undertaker's statement.
When Barrett did answer the suggestion, the magistrate asked him if he got the statement from the undertaker after arresting Moncur. He said: "Yes worship."