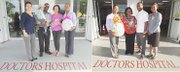 Doctors Hospital welcomed Cayla-Jade Amy Campbell and Victor Henry Basil Dean, the first baby girl and baby boy born at the Maternity Ward in 2014.
Early bird Cayla-Jade made her debut at 7am on Wednesday, January 2, 2014 and Victor came a few days later on Monday, January 6, 2014 at 4.52am.
Cayla-Jade's mother, Melissa Campbell, said she and her husband Carlyle Campbell and little Cayla-Jade's older brother Coen are all very happy with the new addition to their family.

Lisa Bostwick-Dean, mother of baby boy Victor, said she and her husband Brent Dean are truly enjoying their first baby and wonderful addition to the family.
During the first three weeks of January, a total of 23 babies were born at Doctors Hospital, leaving the Maternity team with their hands full. Mothers Melissa and Lisa and their babies Cayla-Jade and Victor were treated to a gift basket full of Johnson's & Johnson's baby products and other supplies courtesy Doctors Hospital and Lowe's Wholesale.