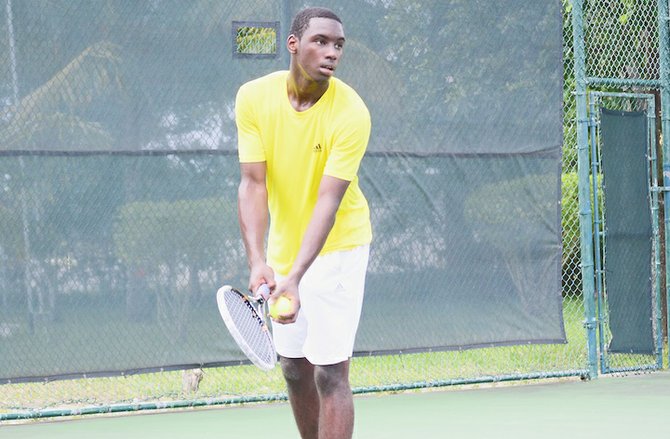 By BRENT STUBBS
Senior Sports Reporter
bstubbs@tribunemedia.net
Grand Bahamian Justyn Thompson had to keep pumping himself up as he fought from behind to pull off a three-set victory over O'Neal Mortimer to clinch the boys' under-16 singles title at the National Tennis Centre yesterday.
That was just one of six finals that was completed as the Bahamas Lawn Tennis Association's annual Junior National Tennis Championships start to wind down just before the start of the qualifying round of the International Tennis Federation's International Tennis Tournament on Saturday.
Thompson, ousted in the quarter-final of the boys' 18s singles in three sets, was hoping that history didn't repeat itself in the 16s final.
In a match that interrupted briefly the rain in the second set, Thompson prevailed 1-6, 6-2, 6-1 to pull off the national title, leaving Mortimer to come back today to play Shannon Francis in the final of the 18s as the week-long tournament will come to a close.
"It was a little tighter than I expected," said Thompson after his victory. "In the first set, he let his self loose, he went for his shots and I was a little passive. In the second set, I stayed composure and did the same thing in the third set to pull off the win. I really had to keep myself composed to pull off this win."
The 15-year-old student of St George's High School advanced top the final after going to a gruelling third set win over Bradley Fowler, the same guy who eliminated him in the 18s.
For Mortimer, he watched as the momentum shifted gear after he won the first set. "I could have kept more balls in place, especially to his forehand because his forehand was a bit off today," said Mortimer, the St John's College standout.
Today, 15-year-old Mortimer said he hopes to make up for his defeat by taking his frustration out on Francis in the 18s final. "It's going to be long," he said. "He's a good player, but I hope to do my best in that match."
After disposing of Dylan Walker to get into the final, Francis said he knows that he can play much better and he intends to do just that against Mortimer. "I think I've improved a lot because I'm really looking forward to playing in the ITF Tournament next week," said Francis, a 17-year-old student of Queen's College. "I'm looking forward to doing well against Oneil and win. I played him twice and I won both times."
Three-straight for Bain
It was a three-peat for Jacobi Bain as he clinched the boys 12s title with a complete whitewashing of Owen Taylor. The final score was 6-0, 6-0. "It was good. I played well. I normally play him a lot and I normally win, so I was expected to beat him," said 11-year-old Bain.
The St Anne's standout will have his hands full today when he moves up to the 14s division to face Donte Armbrister for another title. Bain got into that final on Thursday as they posted another clean sweep with a 6-0, 6-0 win over Trenton Fowler. "The last time, I won the first set and in the second and third sets I was a little shaky," Bain said. "He beat me the last two times, but I hope to beat him this time."
Having won three of their five meetings, including the last two, Armbrister said he's confident that he will prevail. "I'm looking forward to this one because I know I will win," said Armbrister, a 12-year-old student of Temple Christian.
Shepherd prevailed again
Once again, Iesha Shepherd proved why she's one of the rising young stars on the local scene. She repeated as the girls' 16s final champion with a 6-2, 6-4 decision over Isabel Donaldson. "My match was really good. In the first set I controlled most of my points. In the second set, I was a little bit shaky, but overall it was a very good match," said Shepherd, a Queen's College student.
Shepherd, 15, is expected to be back on the court today to take on Donaldson in another showdown for the 18s title as she attempts to retain that crown as well. "I'm looking forward to another excellent match. I hope to improve on my game and come out successful again," she said.
Mackey looking to win
After taking an early 2-0 lead in the first set of one half of the girls' 14s singles semifinal, defending champion Elana Mackey didn't have to sweat it out anymore as Savannah Roberts had to withdraw because of an injury. That pushed Mackey into the final. "Hopefully I win, but in order to do that, I will have to make less mistakes," said Mackey, an 11-year-old student of Nassau Christian Academy. "I don't know who I will win, but I feel I will anyway."
Today, Mackey is set to take on Sydney Clarke, who advanced on Thursday with identical set scores of 6-3, 6-3.
Gibson repeats
In a match-up where they have traded victories, Grand Bahamian Donisha Gibson claimed this year's national junior title with a 6-2, 6-1 win over Emma Weech. "It was good. She was playing very good, but I was just trying to put the ball in place on the court," said Gibson, a 12-year-old from St Jack Hayward High School. "
Little ones didn't get left out
Also on Thursday saw Michael Major Jr win 5-3, 4-2 over Anthony Burrows Jr, while Kym-Beney Greene took home a 4-1, 4-1 victory over Shannon Donaldson in the boys and girls 10s division respectively. Skai Albury also won over Rikara Allen 4-2, 4-1. Unlike the other divisions, the 10s only went to 10 points.
Tournament completion
If you've missed some of the action during the week, you still have a chance to show your support for the junior players, starting 9am today, as the remaining finals will be held.